Rubio: 'If I Don't Run, It Won't Be Because Jeb is Running'
The Republican from Florida talks 2015 plans and 2016 possibilities in a pair of interviews.
by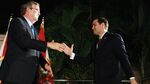 Senator Marco Rubio's 2015 predictions include sanctions against Iran and the possibility of putting his friendship with former Governor Jeb Bush on the back burner, according to a pair of national interviews with the potential presidential candidate published Wednesday.
The Florida Republican is "definitely going to consider" a 2016 presidential bid, he told the New York Times magazine. He said the fact that Bush is considering a run for the Republican nomination won't deter him. 
"If I don't run, it won't be because Jeb is running," Rubio said. "Maybe if you're going to run for county commissioner or to be on the Mosquito Abatement Board or something like that, you may not want to run against a friend of yours."
Rubio also talked about his immigration-reform efforts, saying the backlash he met taught him that "there now exists an incredible level of mistrust on anything massive that the government does."
In an NPR interview excerpted by Politico, Rubio also looked ahead to the incoming Congress, including foreign-policy issues that could help him stake out ground in a presidential campaign. He has been an outspoken opponent of President Barack Obama's recent move to normalize relations with Cuba.
"I think we'll have a super-majority, a veto-proof majority, to impose additional sanctions on Iran and to require the administration to come before Congress for approval of any deal that [Obama] has with Iran," he said. "I think the same is true of the Keystone pipeline, potentially."
Before it's here, it's on the Bloomberg Terminal.
LEARN MORE