Cuomo's Albany Cleanup Stalls
Freeman Klopott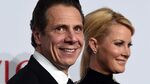 Andrew Cuomo, who rode into his first term with a promise to clean up New York's capital, may need a bigger vacuum for his second term.
The 57-year-old governor, who in November became the first Democrat re-elected to lead the Empire State since his father won a third-term in 1990, will be sworn into his second-term tomorrow. As Cuomo marches into another four years, Manhattan U.S. Attorney Preet Bharara is probing his administration for meddling with and shutting down an anti-corruption panel.
Bharara is also investigating Assembly Speaker Sheldon Silver, a Manhattan Democrat and the most influential state lawmaker, over payments made to him by a law firm that specializes in tax appeals, the New York Times reported Dec. 29. Tom Libous, a top-ranking Republican senator, was indicted this year on charges that he lied to federal agents. John Sampson, a former Democratic Senate leader, is facing corruption charges. Both have pleaded not guilty.
Bharara, who has picked up where the anti-corruption commission left off with its investigation of lawmakers, has said more charges may be coming.
"Clearly, the governor shouldn't put the broom and bucket in the closet," said Blair Horner, the legislative director for New York Public Interest Research Group, a government watchdog organization. "He still has a lot of work to do."
Overshadowed Victories
Corruption in Albany has overshadowed some of Cuomo's accomplishments, including a bill legalizing same-sex marriage in the fourth-most-populous state and the first four consecutive on-time budgets since 1977. He created the anti-corruption panel, called a Moreland Commission, in July 2013, after two senators, including Sampson, and one assemblyman were indicted in separate corruption cases earlier that year.
Cuomo disbanded the commission in March after lawmakers approved a unit to investigate election-law violations, among other new ethics rules. Now, as Bharara investigates his administration after aides tried to stop Moreland members from probing his campaign and supporters in the real estate industry, Cuomo is pressing for more ethics changes.
"There's a fog descending on the legislature, and it's pervasive," said Doug Muzzio, a political-science professor at Baruch College in Manhattan. "This corruption isn't isolated individuals. It's part of the DNA of the organization."
Jim Margolin, a spokesman for Bharara, didn't return an e-mail and phone message seeking comment on the Silver investigation.
No Raises
This month, Cuomo said he won't approve a pay raise lawmakers want, which would be their first in 15 years, unless they agree to limits on the $172-per-day stipends they get while in Albany and restrictions on using campaign funds on personal items.
"They can't be serious if they think I'm going to support a pay raise without reform," Cuomo told reporters in Albany Dec. 17. "That is a non-starter for me."
After the commission was shut down, it turned over its work to Bharara. Among the panel's targets were the outside jobs held by lawmakers. Silver, who makes $121,000 annually as speaker, earned at least $650,000 last year as an attorney with the personal-injury firm Weitz & Luxenberg, according to his financial-disclosure filings.
That firm was among about a half-dozen subpoenaed by the Moreland Commission last year, according to New York state court filings. The panel was seeking records of lawmakers' clients. The law firms collectively moved to quash them, filings show. The cases were dropped after Cuomo disbanded the commission.
Undisclosed Ties
The Times reported that Bharara is investigating Silver's ties to Goldberg & Iryami P.C., a Manhattan firm that isn't named in the speaker's financial disclosure reports.
The firm's two attorneys, Jay Arthur Goldberg and Dara Iryami, didn't return telephone calls seeking comment. Michael Whyland, a spokesman for Silver, declined to comment.
"It's extraordinary that the legislature continues to ignore these kinds of problems," said Susan Lerner, who heads Common Cause New York, a government watchdog. "Legislators should know that they need to improve the public's confidence in the ethical standards in Albany, and continuing to pretend there's no problem, or the problem will handle itself, doesn't help."
Past Scrutiny
This isn't the first time Silver has been scrutinized in public. Questions about his handling of sexual-assault accusations against a former top aide have followed him since the allegations were made in 2001 and 2003. Last year, he was criticized by a state ethics panel for protecting a Brooklyn assemblyman accused of sexual harassment.
The Times said Silver has been the focus of previous federal investigations, none of which resulted in charges.
Failing to disclose outside work could become the most serious charge Silver has faced, said John Kaehny, executive director of Reinvent Albany, a group that fights for greater transparency in the capital.
"It's cut and dried whether or not he disclosed this income," Kaehny said.
Before it's here, it's on the Bloomberg Terminal.
LEARN MORE