The New York Times Joins the NYPD Funeral Protest Backlash
The editorial board criticized what it called one of several acts of "passive-aggressive contempt and self-pity."
by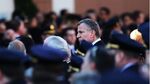 Before NYPD Officers Rafael Ramos and Wenjian Liu were ambushed while on patrol in Brooklyn, the Patrolmen's Benevolent Association, a police union, encouraged officers to sign a letter asking New York City Mayor Bill de Blasio not to attend their funerals if they were killed in the line of duty. But Ramos' family said that de Blasio was welcome to his funeral, and instead it was police officers who were accused of dishonoring the memory of their fallen comrade. 
Hundreds of officers turned their backs on de Blasio at the funeral in a form of protest that has been called inappropriate and disgraceful, and drawn comparisons to the Westboro Baptist Church, a group known for protesting at funerals. At the very least, it seemed hypocritical, given that anti-police-brutality protesters were asked to stop protesting until after the funeral (they did not).
The latest and possibly strongest reaction against the protest comes from the New York Times editorial board. In Tuesday's paper the board condemned what it called the "disgraceful acts" of "passive-aggressive contempt and self-pity," (including prior anti-de Blasio snubs and individuals booing the mayor at a police academy graduation on Monday) led by police unions. 
They have taken the most grave and solemn of civic moments — a funeral of a fallen colleague — and hijacked it for their own petty look-at-us gesture. In doing so, they also turned their backs on Mr. Ramos's widow and her two young sons, and others in that grief-struck family.
The Times essay joins a growing list of critics of the protest. Canadian journalist Jeet Heer tweeted:
In a reported piece published Monday the Times found that "several city officials as well as current and former officers said the public protest by officers on Saturday at what was a highly ordered and solemn occasion appeared to have little precedent." 
Police Commissioner Bill Bratton criticized the protest as well. "I certainly don't support that action," he said,  according to the Guardian. "That funeral was held to honor officer Ramos, and to bring politics into that event was very inappropriate." Bratton hinted that part of the union's rhetoric may be because of ongoing contract and salary negotiations.
The problem the PBA faces now—to the extent that public criticism counts as a problem—is that it has politicized the deaths of the two officers but lost control of when and how the frustration is presented. When de Blasio arrived at the hospital Ramos and Liu were taken to on the day of their deaths, PBA president Pat Lynch and other officers in the hallway turned their backs on him. But as Chris Smith at the Daily Intelligencer wrote, "[u]nion leadership is clearly aware that it has started something that it can't control—many of the cops who turned their backs on de Blasio at the funeral appeared to be from out of town—and that could backfire and cost the cops sympathy."
Before it's here, it's on the Bloomberg Terminal.
LEARN MORE