Scalise Says He Regrets Speech to White Supremacy Group in 2002
Billy House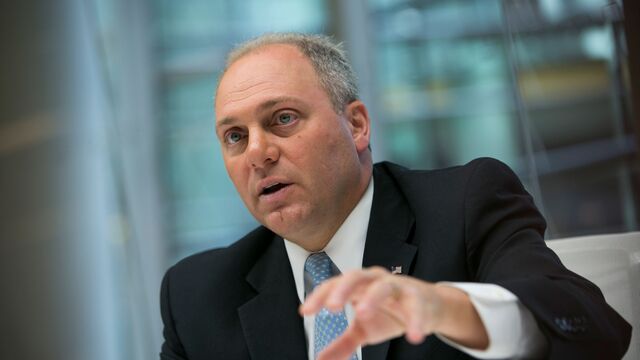 Third-ranking U.S. House Republican Steve Scalise said his 2002 speech to a white supremacy group "was a mistake I regret," and House Speaker John Boehner said he continues to support the Louisiana congressman.
"More than a decade ago, Representative Scalise made an error in judgment, and he was right to acknowledge it was wrong and inappropriate," Boehner said today in an e-mailed statement. "I know Steve to be a man of high integrity and good character. He has my full confidence as our whip."
Scalise said he rejects the "hateful bigotry" of the group he addressed 12 years ago, the European-American Unity and Rights Organization, founded by David Duke, a former grand wizard of the Ku Klux Klan.
"I emphatically oppose the divisive racial and religious views groups like these hold," Scalise said.
Elected by House Republicans this year to his leadership spot, the congressman is facing a controversy over his appearance at an event in Metairie, Louisiana, while he was a state lawmaker. Boehner and Scalise discussed the matter yesterday, said Boehner spokesman Kevin Smith.
As the House majority whip, Scalise counts votes for legislation, helps devise strategy and works to build support for Republican initiatives.
Scalise said he spoke to many groups as a state representative in his efforts to cut wasteful government spending and stop tax increases.
'Wholeheartedly Condemn'
"One of the many groups that I spoke to regarding this critical legislation was a group whose views I wholeheartedly condemn. It was a mistake I regret," he said in the statement.
The second-ranking House Republican, Kevin McCarthy of California, also released a statement supporting Scalise.
"I've known him as a friend for many years and I know that he does not share the beliefs of that organization," McCarthy said.
Scalise was quoted yesterday by NOLA.com/Times-Picayune as saying he didn't realize what views the organization held.
Duke said in a phone interview, "It would seem to me that he would have realized that it was our group."
"I mean, he knew me," Duke said. "But I can't swear to it."
'Hate Group'
House Democratic leader Nancy Pelosi's spokesman, Drew Hammill, said in a statement that Scalise's "involvement with a group classified by the Anti-Defamation League as anti-Semitic and the Southern Poverty Law Center as a hate group is deeply troubling for a top Republican leader in the House."
Other Democrats ridiculed Scalise's statement that he didn't know he was speaking to a white supremacist group.
"He didn't know? The group was named the 'European-American Unity and Rights Organization,' it was founded by David Duke, and he was invited by two of Duke's longtime associates," Democratic National Committee Communications Director Mo Elleithee said in a statement.
A spokesman for the Democratic Congressional Campaign Committee, Josh Schwerin, said in a statement that "Republicans are off to a banner start for their new Congress." The House and Senate convene Jan. 6.
USA Today and the Chicago Tribune called for Scalise to step aside from his leadership post, in editorials posted on their websites.
Non-White Voters
The Republican Party will be "hampered in its effort to appeal to non-white voters if one of its top officials has a connection to a racist group, even a tenuous one from 12 years ago," the USA Today editorial said.
The Chicago Tribune editorial said Scalise's "denials are pretty hard to believe."
The support from Boehner and McCarthy bolsters Scalise's chances of remaining in his leadership job. So, too, does the reason Scalise was elected to the post in June.
Then chairman of the House's conservative Republican Study Committee, Scalise sold colleagues on the idea that leadership needed a red-state member to rectify an ideological and geographical imbalance. Boehner of Ohio and McCarthy of California represent states that voted for President Barack Obama in 2012, while Louisiana backed Republican nominee Mitt Romney.
Boehner's Re-Election
Boehner's own re-election for speaker is set for Jan. 6. Casting Scalise aside could alienate some Republicans who then might cast a protest vote against Boehner. Boehner has little wiggle room for such a revolt, because a candidate for speaker needs a majority of all House member votes to win.
That means that if all 435 House members cast votes for speaker and all 188 Democrats oppose Boehner, as few as 30 of the 247 Republicans could block his re-election.
News of Scalise's appearance before the group was first reported over the weekend by a Louisiana blogger.
Moira Smith, a Scalise spokeswoman, said in an e-mailed statement yesterday that he "has never been affiliated with the abhorrent group in question." She added, "The hate-fueled ignorance and intolerance that group projects is in stark contradiction to what Mr. Scalise believes and practices as a father, a husband and a devoted Catholic."
Before it's here, it's on the Bloomberg Terminal.
LEARN MORE