David Duke Says He Understands Why Scalise's Memory May Have Failed
And he says he wouldn't vote for Scalise because the congressman "puts the interest of Israel over the interest of America."
by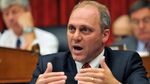 House Majority Whip Steve Scalise told a Louisiana newspaper on Monday that he didn't know he was talking to a white nationalist group when he made an appearance as a state lawmaker 12 years ago. David Duke, the one-time Ku Klux Klan leader and head of that group, says that's probably not true.
"It would seem likely he did know, but that doesn't mean that he did," Duke, 64, said in a phone interview. "And if he had known, I can understand why his memory would fail him a little bit, because there is a McCarthyism today that is far more severe than anything of the McCarthy era."
This new "McCarthyism," Duke said, is an attempt to destroy politicians for circumstances out of their control. He said it is easier for a murderer to rehabilitate himself than for a politician "who uses the wrong word one time in a conversation 40 years ago" and is labeled a racist.
Duke said Scalise was invited to speak to European-American Unity and Rights Organization, or EURO, in 2002 by Duke's former campaign manager, Kenny Knight. Duke said the name of the group, which he founded, was "innocuous."
"I mean, 'EURO' definitely sounds like a human rights organization, which it was," he said.
"It would seem to me that he would have realized that it was our group," he said. "Because he knew Kenny. I mean, he knew me. But I can't swear to it. When you're running around different places and talking to events you're invited and you just see a name and you've got three or four others to do and you don't have anyone to vet them, that's possible."
Knight couldn't immediately be reached for comment.
Duke said that he was horrified by the negative attention on Scalise, which he called a byproduct of a liberal media misrepresenting facts to portray white as racists. He said that media has fueled protests over police incidents in Ferguson, Mo., and New York City and that he had statistics showing white criminals were more likely to be shot by police in New York than black criminals.
He compared Scalise's speech to George W. Bush speaking to the NAACP during the 2000 presidential campaign. Duke said he wouldn't vote for Scalise because the congressman "puts the interest of Israel over the interest of America." But Duke said he would retaliate against any "hypocrite"—including Republicans and Democrats who he said have quietly supported him in the past—who attempts to hurt Scalise because of the speech. 
"If any of them, if they jump on this bandwagon, those who have asked for support from my camp—if they throw Scalise to the wolves in this thing as part of this lynch mob, you know, I promise I will go and absolutely out them because they are hypocrites," he said.
MORE FROM BLOOMBERG POLITICS
Before it's here, it's on the Bloomberg Terminal.
LEARN MORE