Clinton, Obama Most Admired, Gallup Finds
Politicians make up more than half of the list of most admired people.
by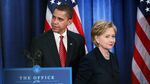 Former Secretary of State Hillary Clinton and President Barack Obama topped Gallup's lists Monday of the nation's most admired women and men.
Of the 31 names mentioned often enough to get a least a single percentage point in the poll, 16 were politicians or their spouses, making politics most revered profession on the lists. Not all the politicians were Americans; the lists also include several actors, two evangelical preachers, two royals, a scientist and a humanitarian. More takeaways:
Hillary Clinton is more popular than Oprah.
The possible 2016 presidential contender won the most-admired woman title with 12 percent of mentions, four percentage points ahead of the television mogul.
Clinton is down from 15 percent of mentions in 2013, and Winfrey is up two points from last year, so an overtake isn't out of the realm of possibility. 
According to Gallup, Clinton has topped the list for 17 out of the last 18 years. Then-first lady Laura Bush took the top spot after the Sept. 11, 2001, attacks. Think of it this way: In the entire lifetime of current high school seniors, Clinton has been the most admired woman in the country for all but one year. 
They're both a lot more popular than Michelle Obama.
The current first lady hit her high-water mark in 2009, when 7 percent of respondents rated her most-admired, though Clinton and Winfrey were still ahead then, too. This year she's down to just 3 percent, or fifth place, behind education advocate and Nobel laureate Malala Yousafzai (5 percent) and former Secretary of State Condoleezza Rice (4 percent).
The president is still the most admired guy around. 
The president handily beat out Pope Francis, receiving 19 percent of mentions compared to 6 percent for the Catholic leader. According to Gallup, the president almost always gets the top spot. Of the 68 years the organization has been asking the question, the president has won in all but 12. In 2008 and 2012, fresh off of his electoral wins, Obama garnered 32 percent and 30 percent of mentions, respectively. 
Angelina Jolie, Sarah Palin and Kate Middleton are all more popular than Elizabeth Warren.
With 2 percent of mentions each, the movie star, former vice-presidential candidate and princess are all more admired than the Democratic senator from Massachusetts, who landed in ninth place, just ahead of Laura Bush.
Bill Clinton is ahead of George W. Bush.
So is the Reverend Billy Graham. Bush's predecessor received 3 percent of mentions for third place and the evangelical minister got 2 percent of mentions for fourth place, both ahead of Bush's fifth-place finish. According to Gallup, this is Graham's 58th time in the top 10.
Ben Carson and Stephen Hawking are tied.
A similar number of Americans admire the conservative surgeon who might run for president and the theoretical physicist who has developed some of the most widely accepted explanations of the workings of the universe while battling a severe neurological disorder. They are tied for sixth place with 1 percent of mentions. 
So are Benjamin Netanyahu and Vladimir Putin. 
The Israeli prime minister and the Russian president are tied for 10th place with 1 percent of mentions. 
A lot of people have their priorities in order.
The rankings excluded the 9 percent of mentions that poll-takers gave their friends and relatives. They also excluded people who were not mentioned enough to be ranked. 
Politics played a role, too. "Democrats and Democratic leaners widely choose Hillary Clinton (20%) and Barack Obama (33%) as the most admired woman and man, respectively," according to Gallup. "Not unexpectedly, Republicans and Republican leaners are much less likely to name either as their most admired. In fact, former Secretary of State Rice edges out Winfrey and Clinton as the most admired woman among Republicans. Obama and Pope Francis tie as the most admired man among Republicans, at 8%."
Gallup polled 805 American adults by phone from Dec. 8-11. The margin of error is plus or minus 4 percentage points.
Before it's here, it's on the Bloomberg Terminal.
LEARN MORE