President Obama's Merry and Bright New Year
His poll numbers are up, but will the holiday cheer carry over into 2015?
by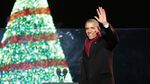 President Barack Obama is ending the year on an upswing, with his approval rating climbing to a 20-month high. But are his new and improved numbers simply a shot of holiday cheer? 
With 48 percent of Americans giving him positive reviews, the president's approval rating is its highest since March 2013, according to a new CNN/ORC International poll. Gallup's weekly tracker shows his job approval rating jumped two points last week to 45 percent, his highest since May. 
The numbers are particularly striking given how badly Democrats lost the midterm elections, with many blaming the president's unpopularity for their downfall.
Obama has since turned out to be the lame duck that roared, as one commentator put it.  The midterm shellacking liberated the president to set off on a post-election sprint, announcing his support for strong net neutrality, jump-starting international climate talks with a Chinese carbon emissions agreement, and issuing an executive order protecting millions of undocumented immigrants from deportation.
Then came a sweeping Environmental Protection Agency ruling on air pollution, the protection of Alaska's Bristol Bay from oil and gas exploration, a budget deal that kept the government open, and the move to normalize relations with Cuba. Even the beleaguered Obamacare website, which vexed the White House last year, is  running smoothly, with 6.4 million Americans now signed up.
While those moves infuriated some of the president's political foes, they appear to have won him public support, particularly among those directly affected by his new policies. More than six in 10 Americans support restarting diplomatic relations with Cuba, according to CNN/ORC's poll. His support among Latinos jumped 10 percentage points after he announced his immigration order. And, according to Gallup, his approval rating among younger voters, is up 10 percentage points, to 56 percent.
A flurry of  positive economic news also could be responsible for some of the president's gains, including a third-quarter boom and a drop in unemployment applications last week, a sign the job market is making progress.
Most importantly for the White House, voters may finally be feeling the economic recovery. Consumer confidence climbed last week to a seven-year high, and on Tuesday, the Dow broke 18,000. Gas prices have fallen for three months–a price drop that the Energy Department predicts will save the typical U.S. household $550 next year. 
Perceptions about the economy generally lag behind the actual data, partly because it can take months of improvement to affect household budgets. Now, Americans' employment outlook is back to pre-Great Recession levels, with the highest number of people expressing a positive outlook about the job market since November 2007, according to a Gallup survey released Monday.  
"We are better positioned than we have been in a very long time," Obama said during his end-of-year news conference. "And I'm going to spend every minute of my last two years making sure that we seize it."
Of course, other factors could stomp Obama's high in 2015. Continued unrest in the Middle East, particularly the in Syria, could further mire the country in controversial foreign policy issues. A Republican-led Congress could bog Washington down in the kind of partisan battles and inaction voters hate.
And with a presidential campaign ramping up, the politics of unilateral executive action may grow more complicated for the White House. Many of the Obama's latest moves could easily be overturned by his successor,  meaning that much of his legacy will depend on electing a Democrat to follow him. To ensure his place in history, Obama likely will have to balance his desire to go his own way against the broader needs of his party.  At least a few Democrats have long grumbled that president has been unable or unwilling to make that kind of a political accommodation. 
Still, there's little question the White House has plenty to celebrate this holiday season. For now, at least, things are looking merry and bright. 
Before it's here, it's on the Bloomberg Terminal.
LEARN MORE