Supreme Court Will Consider Taking Up Gay Marriage in January
Greg Stohr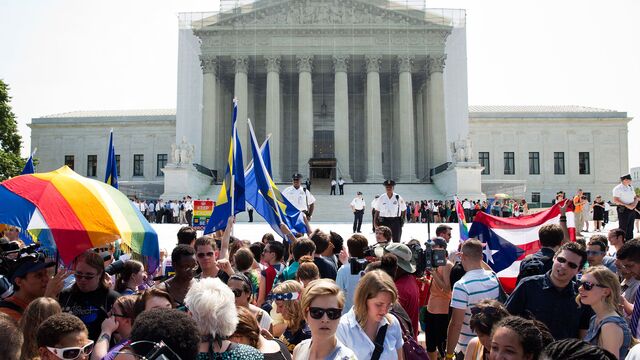 The U.S. Supreme Court will say as early as Jan. 9 whether it will consider legalizing same-sex marriage nationwide in what would be a landmark clash over an issue that has divided the country.
Five gay-marriage appeals will be before the justices when they meet that day for a private conference, according to an update today on the court's online docket. A decision to take up the issue would probably mean a ruling by June.
Cases testing bans in Michigan, Kentucky, Ohio, Tennessee and Louisiana are all pending, in some cases with advocates on both sides seeking Supreme Court review.
The court varies in how quickly it acts after discussing a case at its conference. An immediate announcement on gay marriage is possible so that the lawyers will have time to file their briefs for a late-April argument session.
The Supreme Court in October refused to take up the issue, leaving intact federal appeals court rulings that said gay marriage is a constitutional right. Since then, a different U.S. appeals court has reached the opposite conclusion, increasing the pressure on the Supreme Court to resolve the issue.
The justices have let rulings legalizing gay marriage take effect even while sidestepping the underlying constitutional issue.
The high court last week brought the number of gay-marriage states to 36 by clearing weddings to begin in Florida next month. Two justices, Antonin Scalia and Clarence Thomas, dissented and said they would have blocked the trial court ruling that legalized same-sex marriage in the state.
The number of gay-marriage states has tripled in the 18 months since the Supreme Court ruled in two pivotal cases, including a 5-4 decision requiring the federal government to give equal treatment to legally married same-sex couples. The District of Columbia also allows gay marriage.
Before it's here, it's on the Bloomberg Terminal.
LEARN MORE