Tweeting with the Enemy
Brutal Islamic State thugs are also part of the Twitter community—which means that a conversation with one is only a few keystrokes away.
Annie Linskey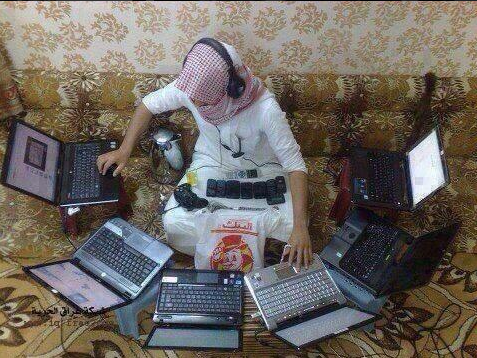 A few weekends ago, while sipping coffee at a Starbucks in downtown Washington, I struck up a conversation with an Islamic State sympathizer. I'd just finished a Bar Method class and was texting with a friend in Boston when I noticed an alert that I'd been mentioned on Twitter—it was a terse note from Ibn Abi Sufian, whom I'd added to a list created for people who Tweet about Islamic extremists. The setting was jarring—me in yoga pants, communicating with a person who was closely aligned with a group that beheads journalists and aid workers. Sufian and I weren't about to be friends: In the tweet, he called me "a fool" and accused me of spreading "lies."
When he wasn't tweeting at me, he posted messages about the benefits of "shooting down all haters," ranted about "Zionist crusaders," and shared photos of bloodied children, and videos mocking the Kurdish Peshmerga forces.
I'd noticed Sufian, if that's his real name, on Twitter while hunting for the online accounts of Islamic State fighters, a group that stands out in a landscape of shadowy terrorist organizations for their chattiness and willingness to engage on social media—some have described them as a "wireless caliphate."  On one level, the notion seemed crazy: Imagine if you could have tweeted at the Nazis. But Islamic State is also partly a movement of Western, technologically sophisticated millennials, and when it comes to communications, their war zone is truly global. One of the group's leading cheerleaders was unmasked last week as a young food executive from Bangalore. 
This seething online world, which involves communicating with westerners—even critics—online, is an offshoot of the recruitment and propaganda-spreading that's at the core of the Islamic State's strategy. Not that it's without problems. There can be an idiotic, Keystone Cops element to their tech obsession—exposing tactics, and sometimes even plans to authorities. And the open communication allows a kind of war voyeurism that, throughout history, has been limited mostly to spies and their masters. Now, anybody with an iPhone can eavesdrop on the enemy and even try to win their trust to learn more about their intentions. It's a kind of war tourism that was heretofore possible only for the very brave. It's a distinctively 21st century pattern, the ultimate horror transmitted by the most ordinary of media. 
Finding Sufian was fairly elementary. I started by looking for Twitter accounts that follow SITE Intelligence Group, a terrorism-watching company well known to journalists because of its uncanny ability to be the first with news of beheadings. Then, by scanning for profile photos of heavily armed men, and photos that contained the black Islamic State banner, I homed in on suspected IS supporters. Sufian stood out because his photo shows an image of a young man wearing military-type garb and clutching some kind of long gun. I couldn't tell if he was an Islamic State fanboy living in a cushy Western country—the Internet is full of them—or the real deal. His biography included a line that read: "Add me to a list and I'll block you." I promptly added him to my Islamic State list, and went to my exercise class.
"You fool, didn't you read my bio," he tweeted at me.
"And you clearly didn't read mine. Who in the world do you think you are?" was my response, hoping he might provide some details. 
"Don't you have some lies to write?" he said.
Unsure I wanted to be having this conversation, I responded as best I could: "Coffee comes first."
That turned out to be the end of my interactions with Sufian, whose profile disappeared for a spell, then recently came back. As promised, he blocked me, so I have to prevail on my co-workers to look at his feed when I want to see what he's up to.
Others have had much richer and more purposeful conversations with Islamic State propagandists—leading to some oddly friendly banter between the two sides. Nick Lowles, who works at the anti-extremist British group Hope Not Hate, struck up an online relationship with fellow British national Abu Rumaysah after the aspiring jihadist told a news organization that he wanted to leave the U.K. and join the Islamic State. "I like to engage with them online and even sometimes offline," Lowles said in an email. "Partly this is to understand them a bit more, but also to glean information." The sympathizers want to interact, either to argue their case or convert him, Lowles said. "Occasionally, very occasionally, they open up about themselves and what they are up to," he said. 
Lowles got to know Abu Rumaysah online by goading him about the plan to leave the United Kingdom, even, as part of his taunting, offering to pay for an airline ticket for Rumaysah to exit the country and join the Islamic State. Rumaysah's one of the more outspoken IS supporters, even appearing on a BBC program defending the notion of an Islamic State caliphate and pushing his view that Great Britain should be governed by sharia law. He was arrested by authorities for having ties to an extremist group, posted bail, and a few weeks ago he disappeared—British authorities have said he left the U.K. The aspiring fighter then surfaced online using the Twitter handle @aburumaysah1435, and claimed to be in Syria. The notion that Rumaysah could evade authorities and join fighters abroad intrigued the British media. Lowles, also curious if Rumaysah had really managed to leave, tweeted with him about the offer to pay for part of the flight. Other Islamic State sympathizers, evidently hungry for cash, have chimed in, trying to convince Lowles via Twitter to fork over the money. (Lowles's response online is this: I need that address first before I send a check.)
After Sufian went dark, I started conversing with another IS type who followed me on Twitter. This time we communicated via direct message, and he was particularly chatty while I happened to be on a Metro North train heading from Greenwich, Conn., to Grand Central Terminal after a work trip to meet with an adviser to a Republican donor. The topic du jour was violent protests in Ferguson after a grand jury failed to indict officer Darren Wilson. I asked one self-proclaimed member of the Islamic State—@Restorer999—why he was posting about the demonstrations. "Why shouldn't I follow Ferguson," he wrote. He followed up with a smiley face and proclaimed that the Islamic State is "against racism." He didn't say much more—declining to reveal his location—and closed out the conversation with another emoticon that looked like this: ":P"
Since he wouldn't tell me where he was, I consulted with Gilad Lotan, the top data scientist at Betaworks who did some interesting work mapping the Twitter followers of the Boston marathon bombers. He took about a dozen Twitter handles that I sent him of suspected IS tweeters and fed them into a computer program that examines connections between accounts in order to determine which tweeters are influential, and what clusters appear. Then he produced a map of several thousand interconnected tweeters in four distinct clusters: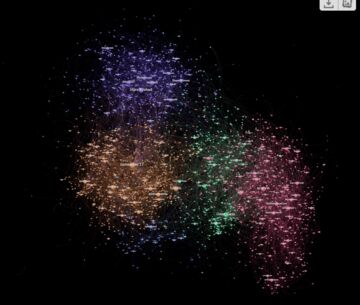 The colored clusters can be loosely categorized as: Journalists who cover the Islamic State (red), Middle East activists (green), Islamic State sympathizers who tweet in English (yellow), and Islamic State sympathizers who tweet in Arabic (purple).
Lotan said the purple and yellow clusters stand out as "unhealthy" social networks: There are only a few Twitter accounts that dominate, with fewer interconnections than normal networks. This could be due to the fact that Twitter keeps shutting down accounts of suspected Islamic State fighters, which prevents them from establishing wide connections. It turned out the person I tweeted with, @Restorer999, is firmly in the English-speaking Islamic State cluster, but not a particularly influential member of the group.
Twitter's anti-IS policy is a nuisance to the Islamic State propagandists. Much of the non-dogmatic chatter among the Islamic State twitterati centers on the quotidian headache of accounts being suspended. The tweeters often come back online swiftly, by creating new accounts and  persuading others who are still active to broadcast the alternative handles. This game of whack-a-mole provides clues about who Twitter believes is real: Chances are the true Islamic State fighters have only a few hundred followers, and work from accounts that are only active for a couple of days.
The Islamic State's relentless connectivity continues to give them their own path to spread news and ideas—even in a theater of war that they've made particularly unfriendly to traditional news gatherers. Or, as Rita Katz of SITE puts it: "Every ISIS fighter is also his own media group." 
Professional watchers, including Katz, have witnessed live scenes of war unfold in real time on Twitter. She recalled how one fighter tweeted during a battle that he'd been injured, and then called on buddies for help. A person responded that he too was injured and therefore couldn't provide aid. Other, less sensational reports from Iraq and Syria are littered all over Twitter once you start looking—though as with any soldier sharing war stories, skepticism is in order. I found one example of a self-proclaimed member of IS posting about American aerial attacks in Mosul. CNN reported that U.S. warplanes did bomb the area in the same timeframe. His account has been suspended by Twitter.

Another user—now also suspended—announced on Twitter that the Islamic State planned to mint gold and silver coins that would be used as the regime's currency. Three days later, the New York Times wrote about the Islamic State's new monetary policy.  
The U.S. government has benefited to some degree from the Islamic State's transparent recruiting—the U.S. Department of Justice has arrested 20 Americans this year who were trying to leave the country for jihad. That's a "huge increase" over last year, said John Carlin, assistant attorney general for the DOJ's National Security Division, during a recent discussion at Bloomberg News.
But as easy it is to reach out and touch someone, even a terrorist, using social media, these connections don't seem to have brought about any greater understanding. American authorities see the irony that a communications system built in our country has been weaponized by our enemies and turned against the U.S. government for recruiting fighters. "It's a trillion-dollar system that's been developed by the greatest minds in the United States and across the world," Carlin said. "It's being provided, for free, to an adversary that's bent on death and destruction, which, as its mode, slaughters innocent civilians, slaughters other Muslims in the region, sells women and children into slavery."
He added: "In thousands of years of military history, people have been looking to develop this type of instant communication tool, and they have it for free."
Before it's here, it's on the Bloomberg Terminal.
LEARN MORE