Sony Confirms 'The Interview' Will Premiere on Christmas Day
The film's stars rejoiced the news that the comedy will see a theatrical release despite terrorist threats.
by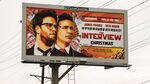 Patriotic Americans hoping to stand up to alleged North Korean bullying are in luck—Sony has announced that its assassination comedy The Interview, will premiere on Christmas Day after all.
"We have never given up on The Interview and we're excited our movie will be in a number of theaters on Christmas Day," Sony CEO and Chairman Michael Lynton said in a press release. "While we hope this is only the first step of the film's release, we are proud to make it available to the public and to have stood up to those who attempted to suppress free speech."
The film's co-stars, Seth Rogen and James Franco, took to Twitter to celebrate the news on their latest collaboration. 
On Tuesday the Alamo Drafthouse movie theater chain and Georgia's Plaza Atlanta both tweeted that they'd received the green light to show the film, which was canceled after threats were made against theaters planning to show the films. Hackers have also leaked dozens of private and embarrassing emails sent by Sony executives.
Sony has also been criticized for pulling the film, with several members of Congress calling for screenings to go as planned. President Obama said during his end of the year press conference that not showing the film was a "mistake." 
Obama "applauds" the decision as well, according to a statement from White House. "As the President made clear, we are a country that believes in free speech, and the right of artistic expression. The decision made by Sony and participating theaters allows people to make their own choices about the film, and we welcome that outcome," read the statement. 
Speaking on CNN on Sunday, Lynton had stated that the comedy was pulled after several theater chains declined to show it, and added that no video on demand distributors had agreed to carry the film. The Wrap reported Tuesday that The Interview will have a VOD debut, but Sony has yet to confirm the report.
Before it's here, it's on the Bloomberg Terminal.
LEARN MORE