Rand Paul's Star-Studded Festivus Celebration
The Kentucky senator ends the year with a tradition.
by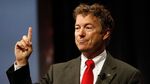 The day before Christmas Eve, in 2013, Kentucky Senator Rand Paul issued a series of tweets celebrating Festivus, the "airing of grievances" holiday invented on an episode of Seinfeld. Paul's culture-jamming was so popular–1,000 retweets for his first joke–that he repeated the gag on Tuesday.
The result of this ongoing gag: Free content for journalists who, to be very honest, want to escape the office and start consuming starch with their families. Paul's tweets drew coverage by the Washington Post, CBS News, ABC News, and New York–hardly the last in the string, but the only outlet to ask whether Paul "Just Announce[d a] 2016 Run in a Festivus Tweet." (He did not. He reiterated that he was running for re-election to the U.S. Senate, as he's done a few times in 2014.)
This un-numbered tweetstorm came at the end of a year when Paul took up the cause of police reform after Ferguson, and when he joined a vanishingly small number of Republicans, like Arizona Senator Jeff Flake, in backing the opening of relations with Cuba. The Festivus fun was one last 2014 frolic with the supporters and reporters who like it when Paul's interesting–a quality that will be tested if he runs for president.
Before it's here, it's on the Bloomberg Terminal.
LEARN MORE