Majority of Americans Think Sony Shouldn't Have Pulled 'The Interview'
Eighty-four percent of those polled view Kim Jong-Un unfavorably.
by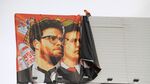 The majority of Americans say Sony overreacted by canceling the release of The Interview, according to a new CNN/ORC poll. 
The poll, released Tuesday, found that 62 percent of respondents think that Sony overreacted to its massive hack by yanking the comedy from distribution.. Thirty-six percent said the studio made the right decision. 
At the same time, 61 percent of those polled considered the hack an act of terrorism, as opposed to President Barack Obama's assertion that it was "cyber vandalism." Eighty-four percent of respondents view North Korean leader Kim Jong-Un unfavorably, making him the least popular world leader in the poll. By comparison, 74 percent had an unfavorable opinion of Russia's Vladimir Putin, and 48 percent had an unfavorable opinion of Syria's Bashar al Assad. 
Forty-two percent of those polled said they viewed North Korea as a very serious threat to the U.S.
CNN/ORC reached 1,011 people by phone between Dec. 18 and Dec. 21.  The margin of error was 3 points. 
Before it's here, it's on the Bloomberg Terminal.
LEARN MORE