Sony Hires Real-Life 'Scandal' Manager
The D.C. operative who inspired the character of Olivia Pope reportedly gets another high-profile client.
by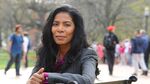 Sony Pictures Entertainment has hired crisis manager Judy Smith, the inspiration for the character of Olivia Pope on the popular television show "Scandal," to help manage the controversy around the decision to pull the satirical movie "The Interview." 
According to the Hollywood Reporter, Sony has brought on Smith to help advise film chief Amy Pascal on strategy and next steps following a cyber-attack believed to be launched by North Korea. 
The attack has been a public-relations disaster for the company. Employees, who blame Sony for failing to adequately secure its computer network, have filed at least four class-action lawsuits against the company. A number of inflammatory and embarrassing private emails about studio business have been made public, including racially insensitive remarks about President Barack Obama exchanged between Pascal and producer Scott Rudin.

Theater chains pulled "The Interview" after the hackers warned said that anyone who attended the Christmas Day opening would be risking their lives.  Sony then canceled the release altogether, prompting complaints from Hollywood to Washington that the studio was setting a dangerous precedent. "We cannot have a society in which some dictator someplace can start imposing censorship here in the United States," President Barack Obama said in a Friday news conference.  "I wish they had spoken to me first."

Pascal has not said anything publicly about the companies troubles, though Sony Pictures Entertainment chairman and CEO Michael Lynton spoke with CNN on Friday. "The press and the public are mistaken as to what actually happened," Lynton said. "We have not caved. We have not given in. We have persevered."
 
Smith, who calls herself "America's #1 Crisis Management Expert," worked as a press aide to former President George H.W. Bush before starting her own firm. She's represented a series of high-profile clients, including Monica Lewinsky, former Idaho Senator Larry Craig, actor Wesley Snipes, NFL quarterback Michael Vick, and the family of murder victim Chandra Levy.
Before it's here, it's on the Bloomberg Terminal.
LEARN MORE