Groundhog Day: Giuliani vs. Sharpton on Who's to Blame for Racial Tensions
But this time, President Barack Obama is in the middle.
by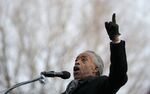 It seems as if it's 1991 all over again. Then, as now, an act of violence in New York ends in death and unleashes a wave of anger. In the public arena, two leaders, both supremely comfortable in the midst of a media battle, both with conflicted reputations dating back decades, are firing freely in what suddenly seems a bitterly divided city.
Rudy Giuliani and Al Sharpton are a title fight from another era, but, amazingly, after the shooting deaths in Bedford Stuyvesant of two New York police officers, they both perfectly personify the views of their respective sides. 
Much has changed in the nearly quarter-century since the Crown Heights riots propelled the two into the spotlight. Sharpton is a far more establishment figure these days (and 100 pounds lighter).  Barack Obama, as a candidate in 2007, praised Sharpton as "the voice of the voiceless and a champion for the downtrodden." Since then, Sharpton has stayed in regular contact with the Obama White House and has been a valued defender of the president.
Giuliani, then planning a second challenge to Mayor David Dinkins, has gone on to be America's mayor, then a presidential candidate. Both are deeply steeped in modern media culture. Sharpton hosts his own show on MSNBC, and Giuliani's a regular on Fox News.
The circumstances of the 1991 rioting that raised both Sharpton and Giuliani's profiles and what happened over the weekend are also quite different. The former included the beating, stabbing and death of a Jewish man in a clash between blacks and Jews in Brooklyn, after a driver in a motorcade for a Jewish leader was in an accident that killed a child.
This weekend's apparently premeditated move seems part of something bigger, tied into building tensions of the past several months and a sense that for all the progress of the decades in between, there's still a deep well of anger and resentment. The question is whether the current disturbances mean the country has really returned to its past, or whether Giuliani and Sharpton's resurgence is an old reflex masking a new reality.
For all of America's persistent problems, race relations have come a long way since 1991. The biggest proof is still the 2008 election, and 2012 re-election, of Obama as the country's first black president.
But on Saturday, Ismaaiyl Brinsley drove from Baltimore and shot and killed NYPD officers Rafael Ramos and Wenjian Liu on Saturday in their patrol cars, killing himself soon after. He had indicated on social media that he was angry with police for their handling of black suspects that led to two high-profile deaths in recent months, those of Michael Brown in Ferguson, Mo., and Eric Garner in New York. 
Giuliani's rhetoric has been among the harshest of any serious leader or television personality. By Sunday, he had said on Fox that Obama bears some responsibility, saying he was part of a campaign after Brown's death over the summer to perpetuate the idea that police are racist or not trustworthy. "We've had four months of propaganda starting with the president that everybody should hate the police," Giuliani said.
(Obama, ironically, has drawn criticism from many in the civil rights community for not speaking out enough against police abuses after Brown's death.)
Giuliani added that "the police are doing the best job of saving black lives. They've saved a lot more black lives than Al Sharpton has ever saved. . . . . Don't listen to these hucksters and these con men who are constantly spewing this anti-police hatred."
Sharpton has made police malfeasance a major cause since Ferguson. He's made multiple visits to Missouri for protests and news conferences since Brown's death and when the grand jury declined to indict the officer who shot Brown. He's also sought to link the Brown and Garner deaths. After the NYPD shootings, he expressed outrage at the police killings and called for non-violence, and said at a news conference Sunday with Garner's wife and mother that he had gotten death threats after the NYPD police killings, playing a voicemail to prove it.
Obama, who left Washington for his family vacation in Hawaii the day before the shootings, weighed in hours after the police killings, saying in a statement that he unconditionally condemned them. "Two brave men won't be going home to their loved ones tonight, and for that, there is no justification," he said. "The officers who serve and protect our communities risk their own safety for ours every single day–and they deserve our respect and gratitude every single day. Tonight, I ask people to reject violence and words that harm, and turn to words that heal–prayer, patient dialogue, and sympathy for the friends and family of the fallen."
Before leaving for Hawaii, the president also gave an interview to CNN, though it didn't air until Sunday, in which he talked about his own experience with racial issues.  It was his clearest statement to date that the old politics of Giuliani and Sharpton, for all the recent passion, were in the process of being transcended. 
"I think an unwillingness to acknowledge that progress has been made cuts off the possibility of further progress," he said. "If critics want to suggest that America is inherently and irreducibly racist, then why bother even working on it? I have seen change in my own life. So has this country. And those who would deny that, I think, actually foreclose the possibility of further progress, rather than advancing it." 
Before it's here, it's on the Bloomberg Terminal.
LEARN MORE