Four Years Later: The Lessons of Ditching 'Don't Ask, Don't Tell'
The military is doing fine with openly gay soldiers in its ranks, although advocates say there is more work to do.
Annie Linskey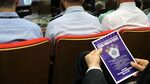 Four years ago Monday, President Barack Obama freaked out some of his military brass by signing a law repealing the Clinton-era "don't ask, don't tell" policy.  The edict had kept an estimated 65,000 gay and lesbian troops locked in the closet, based on the belief that open gayness would disrupt the morale of the armed forces and affect their ability to protect the country. 
At the time, commanders predicted mayhem—retired Marine Gen. John Sheehan, former commander of NATO forces, said a similar policy implemented by the Dutch army contributed to "the largest massacre in Europe since World II."  Gen. James F. Amos, then the commandant of the Marine Corps, told senators that "assimilating openly homosexual Marines into the tightly woven fabric of our combat units has strong potential for disruption at the small unit level." 
Despite those concerns, the policy of closeting gay members of the military ended December 22, 2010, and the Pentagon was given nine months to ease the transition.
While gay rights organizations say there's still quite a ways to go before the military fully embraces differences in sexual orientation, there's not a lot of nostalgia for the days of don't ask, don't tell. "The only remarkable thing about it is how unremarkable it has been," said Lt. Cmdr. Nate Christensen, a Department of Defense spokesman. He added that the implementation of the repeal "has not impacted morale, nor has it affected our readiness or unit cohesion."
Gay rights advocates agree. "Evidence is out there now that either this was a non-event or there is more retention," said Ariana Bostian-Kentes, co-founder of the Military Partners and Families Coalition. "People are doing better at their jobs. I'm hearing mostly positive stories."  
The policy also led to the creation of a new list of firsts, each one getting headlines around the globe: The first same-sex wedding on a military base. The first gay pride celebration at the Pentagon. The first time the U.S. Armed Forces color guard marched in a gay pride parade. 
Outgoing Senate Arms Services Chairman Carl Levin, a Michigan Democrat, credited some of the same commanders who resisted lifting the old policy with making its repeal a success, using Amos as an example and recalling how the general testified that the Marines weren't ready for the lifting of "don't ask, don't tell."  Still, Levin recalled at a recent breakfast with Bloomberg News reporters, "he said, 'But if you do repeal it, we'll make it work.  We're Marines.  We will make it work.  If you decide you're going to do it, by God, we're going to make it work.'"
All this isn't to say that being gay in the military is always smooth sailing. "It's mostly a good story, but ..." said Jeff Mueller, the co-chair of the Servicemembers Legal Defense Network board of directors, a group that lobbied intensely to end "don't ask, don't tell." For starters, he said, the military hasn't included provisions on sexual orientation or gender identification in its non-discrimination clause.  
Mueller said he's heard anecdotes about openly gay soldiers being passed over for promotions, failing to receive awards, and receiving lousy assignments. His group is about to embark on a campaign to collect data about such incidents to help an upcoming effort designed to push the military to strengthen anti-discrimination policies. 
Another issue being resolved is the way same-sex spouses are addressed in the status-of-force agreements in many of the 181 nations where the U.S. military has a presence. In most of those countries, including Germany and South Korea where large numbers of soldiers are stationed, there isn't a clear provision insisting that gay spouses receive visas. Forty countries including Bahrain, Vietnam and Ireland do issue visas to gay spouses, according to the Military Partners and Families Coalition.
Other changes being sought include more education to improve the climate for gays and lesbians in the military, guidance that encourages military chaplains to minister to gays and lesbians, and extending benefits to veterans in states that don't recognize gay marriage.
Meanwhile, some activists are moving to another frontier: Allowing transgender soldiers to openly serve.  The most famous, of course, is Chelsea Manning—the military whistle-blower who was convicted of espionage and is formerly known as Bradley Manning. 
Manning recently revealed that she kept her transgender identity a secret while serving overseas to avoid being dismissed from the military, a practice that advocates want to end. "You can't state that you are transgender," said Bostian-Kentes. "You can't identify that way or you will be kicked out." 
Before it's here, it's on the Bloomberg Terminal.
LEARN MORE