Obama Says Sony Hacks Not an Act of War, but Republicans Disagree
President Obama and Republicans in Washington disagree about the definition of digital warfare.
by and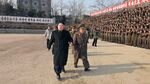 President Obama and Republicans in Washington clashed on Sunday over how to characterize the alleged North Korean hack of Sony's network. 
In an interview with CNN that aired on Sunday, Obama appeared to rebut hawkish calls for swift retaliation against the far-Eastern foe by calling the North Korean hack a case of "cyber vandalism."
"I don't think it was an act of war," Obama told Candy Crowley on CNN's "State of the Union." "I think it was an act of cyber vandalism that was very costly, very expensive. We take it very seriously. We will respond proportionately, as I said."
Minutes later, Senator John McCain of Arizona appeared on the same program and defiantly labeled it an unmistakable act of war. 
"The president does not understand that this is a manifestation of a new form of warfare," McCain said. "When you destroy economies, when you are able to impose censorship on the world and especially the United States of America, it's more than vandalism. It's a new form of warfare that we're involved in, and we need to react and react vigorously."
Just what a "proportional response," should consist of, and whether the public will view it as strong enough, may hinge first on differing theories of  how such cyber attacks should be classified.  
"We have to treat it like we would treat, you know, the incidence of crime, you know, in our countries," Obama argued in an interview that was recorded Friday. "When other countries are sponsoring it, we take it very seriously. But, you know, I think this is something that we can manage."
During his final press briefing of 2014 on Friday, Obama said it was a "mistake" for Sony not to release "The Interview," a satirical movie about the assassination of North Korea's leader, after hackers threatened movie theaters that were scheduled to show the film on Christmas Day. The FBI has linked the Sony hackers to North Korea, though the country's government denies involvement.
Obama has declined to rule out a military response toward North Korea, telling reporters Friday only that "we have been working up a range of options" that will be presented to him and "I will make a decision on those based on what I believe is proportional and appropriate to the nature of this crime." Those options could theoretically cover everything from economic sanctions to a cyber response to military responses that would hurt North Korea or empower South Korea.
One of Obama's concerns is how any U.S. response affects South Korea. Still, the U.S. president said in the CNN interview that "sometimes this is a matter of setting a tone and being very clear that we're not going to be intimidated by some, you know, cyber hackers."
On CBS' "Face the Nation," Senator Marco Rubio of Florida chimed in, calling North Korea's action "very serious" and "not just a cyber-threat." Stressing the importance that the movie gets released publicly (and that "as many Americans as possible" see it), Rubio called North Korea "not even a government; it's a criminal syndicate."
Perhaps few summed up the debate better than Congressman Mike Rogers, the Republican chair of the House Intelligence Committee, when asked on "Fox News Sunday" how serious Americans should be taking the digital attack.
"Well, you can't necessarily say an act of war," he hedged before admitting this was uncharted territory. "We don't have good, clear policy guidance on what that means when it comes to cyber attacks."
But moments later, Rogers intensified his language and blasted Obama, who is spending the winter recess in Hawaii.
"This was a nation-state attack on the United States, and saying aloha and getting on an airplane going to Hawaii is not the answer really the world needs, let alone America," he said, adding, "Just calling North Korea out isn't going to be enough. So, I would argue you're going to have to ramp up sanctions. It needs to be very serious and significant."
Before it's here, it's on the Bloomberg Terminal.
LEARN MORE