The Real Barack Obama is Standing Up
In the final weeks of 2014, President Barack Obama has antagonized most of Washington by going his own way.
by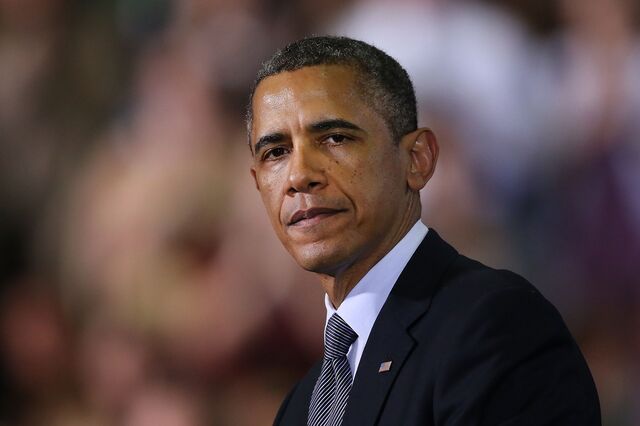 After years of battling with Republicans, stroking the egos of Democrats, and trying to keep together the fractious Democratic coalition that elected him twice, President Barack Obama is embracing the idea of YOLO, or in his case, YOPO—you're only president once. 
Liberated from campaign politics, Obama is seeking to cement his legacy as the transformational leader he promised to be eight years ago—and in the process he's angering  lots of people in Washington. Where he once looked to Lyndon B. Johnson, a president known for achieving sweeping change through legislation, he's now far more interested in the legacy of the Roosevelts, two administrations that pioneered the strong use of executive power, those who've spoken with him said.
"He's not worried about the politics anymore," said Douglas Brinkley, part of a group of historians that periodically meets with Obama at the White House. "It's Hillary Clinton or the next Democratic nominee's problem. He's going to go out as true Barack Obama."
In remarks before the Business Roundtable earlier this month, Obama himself noted the change: "You get a little looser in the second term." The president will have a chance to expand on that thought Friday when he holds a year-end news conference that is sure to include questions about his recent decrees on Cuba, immigration, and a climate change deal with China. 
The decision to go his own way has allowed Obama to regain control of a second term hobbled by domestic mismanagement like the bungled roll-out of the healthcare website and foreign crises such as the rise of the Islamic State in Syria and Iraq. He is also resetting the agenda for the 2016 presidential race, elevating such issues as immigration and the Cuba embargo which could give his party an advantage if Republicans offend the Hispanic community while working to dismantle his actions. If the political bank-shot works and a Democrat succeeds him, it will protect a good chunk of the president's final works, much of which will be accomplished through executive actions, orders and memorandums that can either be undone or institutionalized by the next president.
At the same time, his bold actions are galvanizing Republican opposition that could make the contest all that much harder for Hillary Clinton, or any other Democrat who runs to replace him. The president's aggressive moves since the Republican midterm victories has played into one of the primary criticisms of the president: that Obama is a guy who's out for himself and only for himself. "There's no doubt that his is a unilateral president who is exhibiting right now anger and defiance towards the American people," said Texas Republican Senator Ted Cruz. "He is angry at this last election. And he's acting in defiance of that."
White House aides argue that the reverse is true. The fact that Obama has, as he often puts it, run his last campaign, has freed the president to focus solely on putting the final pieces of his agenda into place, whether that means embracing, flouting, or ignoring Congress altogether. The shift is not all that surprising: over the past few years, Obama's made his frustrations with Congress well known, rarely missing an opportunity to criticize Washington dysfunction. And he's long chafed at the restrictions of his office. "The bear is loose!" he exclaimed in May, when he ditched his motorcade for a brief walk.
Second terms have historically been difficult for presidents, who often see whatever political capital they still have quickly degraded by controversy, be it impeachment for President Bill Clinton or President Ronald Reagan's Iran-Contra scandal over trading arms for hostages. Stymied in domestic politics, second-term presidents tend to turn their focus abroad. "Even the huge achievements of a second term typically pale in comparison to the landmark legislation we often seen in a first term," said Jeffrey Engel, director of the Center for Presidential History at Southern Methodist University in Dallas. "Just compare what Obama's been able to do on environmental regulations and immigration with the size of scope of health care reform."
Acting alone has other built-in weaknesses, including attracting a host of critics. His decision to shield millions of illegal immigrants from deportation infuriated Republicans. Democrats, including House Leader Nancy Pelosi, were disappointed when Obama approved a $1.1 trillion budget bill that included a provision weakening a regulation on Wall Street. And this week's move to restart diplomatic relations with Cuba after more than a half-century of silence outraged hawks on both sides of the aisle. "It stinks," New Jersey Senator Robert Menendez, a Democrat, said of the Cuba deal. 
Obama should understand the frustration. As a U.S. senator from Illinois and then as a candidate for president, he accused President George W. Bush of flouting Congress. "The biggest problems that we're facing right now have to do with George Bush trying to bring more and more power into the executive branch and not go through Congress at all," he said at a town hall in Lancaster, Pennsylvania in 2008. "That's what I intend to reverse when I'm president." 
Before it's here, it's on the Bloomberg Terminal.
LEARN MORE