Inside the Democratic Party Split: Pragmatists Vs. True Believers
David J. Lynch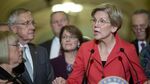 When populist Democrats such as Senator Elizabeth Warren complain about the consequences of Wall Street influence on government policy, here's what they mean:
Since the March 2009 depths of the credit crisis, the KBW Bank stock index, which includes the nation's largest financial companies, has gained 297 percent. During that same period, workers' inflation-adjusted average hourly earnings have actually fallen.
Warren's anti-bank revolt -- which almost derailed a government spending bill and may yet cost investment banker Antonio Weiss a top Treasury Department job -- signals a widening split among Democrats over economic policy.
"We're seeing the same sort of division in the Democratic Party now that we saw throughout the 1980s," said Stuart Rothenberg, a political analyst. "Between the Clinton pragmatists and the 'true believers.'"
Even if Warren doesn't challenge presumed Democratic presidential frontrunner Hillary Clinton, the former Harvard professor's popularity among the grass-roots threatens the continuation of the business-friendly policies that originated two decades ago with Robert Rubin, a former Goldman Sachs and Citigroup executive who served as Treasury secretary.
"A lot of people from the investor community look at Hillary as a return to Rubin economics from the '90s," said Chris Krueger, senior policy analyst for Guggenheim Securities in Washington. "Even if Hillary wins, she's going to need the backing of Warren and that part of the party. And with that backing will come an understanding."
Tall Task
Overturning the Democratic alliance with Wall Street won't be easy. While most of the finance industry's campaign contributions in 2014 went to the Republicans, Democrats still got $40 million. And Clinton, who represented Wall Street as a U.S. senator from New York, is tied to her husband's legacy.
The post-1992 era, which saw Democrats win four of six presidential elections, has been better for capital than labor. Corporate profits as a share of the economy have more than doubled since President Bill Clinton's inauguration while employee compensation's share has slid.
Workers would be getting $500 billion more this year if the economic pie were divided as it was in early 1993, according to data compiled by Bloomberg.
As a result, Democrats such as Warren of Massachusetts want the party's eventual nominee to worry less about bond traders' profits and more about ordinary Americans' pay.
"There's a role for a Democratic candidate to really go after the economic-fairness issue," Senator Carl Levin of Michigan said at a Dec. 16 Bloomberg breakfast. "Whoever the candidate is, if it's Hillary Clinton, I hope she will be able to step on some of the biggest toes around, and she's going to have to do it."
Financial Crisis
The Democratic Party's ties to Wall Street were frayed by the 2008 financial crisis, which resulted in a taxpayer bailout of the banks and swept Obama into office. At a March 2009 White House meeting, the president warned bankers of the ugly popular mood of the time. "My administration" he told them, "is the only thing between you and the pitchforks."
The Dodd-Frank law, the biggest overhaul of financial regulations since the Depression, followed in 2010. Yet today, the banks are bigger than they were before the crisis. And a provision in last week's spending bill erodes Dodd-Frank by easing rules shielding taxpayers from bank losses.
Bigger Debate
Reflecting concern over the financial industry's prominence in Washington, at least seven Democratic senators have publicly declared their opposition to Weiss, Lazard Ltd.'s global head of investment banking, as undersecretary of the Treasury for domestic finance.
"It really is a piece of a much bigger debate: whether or not what's good for Wall Street is good for America," said Dennis Kelleher, head of Better Markets, a nonprofit group that promotes stronger financial regulation. "The prevailing view, at least since the Clinton administration, is that it is."
That view has been shaken by a decade in which the typical American family lost ground: Median household income in October was $53,713, more than 6 percent below the 2000 figure, according to Sentier Research.
In response, organized labor is seeking greater public spending on infrastructure, new overtime rules and the right to organize, as well as tighter limits on banks, said Damon Silvers, the AFL-CIO's policy director and special counsel in Washington.
The populists also want easier monetary policy designed to sustain growth rather than focused on a concern over inflation, which erodes bond values. And they want an unapologetic attack on the widening income inequality, which may involve changes to the tax code.
"It's a real fight within the party," said Silvers.
Third Time
The debate among Democrats over Wall Street's political heft suggests that in 2016 the financial industry will find itself as a central focus for the third consecutive presidential election.
"This is much more about the presidential election than anything else," said Simon Johnson, an economist at the Massachusetts Institute of Technology and critic of the banks.
Democrats attacked Republican presidential contender Mitt Romney's private-equity background in 2012 four years after the giant financial institutions triggered a global crisis.
On Dec. 12, a group called "Ready for Warren" released a letter signed by more than 300 former Obama campaign aides and organizers calling on her to run in 2016. In an interview with NPR this week, Warren said, "I'm not running for president."
Changing Course
For Democrats, Wall Street has played a major role in determining policy since Bill Clinton named Rubin as Treasury secretary. Clinton, who had campaigned in 1992 on a slogan to "put people first" with new spending of $50 billion a year, reversed course after winning the White House and emphasized cutting the deficit.
Clinton eventually balanced the federal budget for the first time in 28 years, lowered trade barriers, overhauled welfare and reappointed Republican Alan Greenspan as chairman of the Federal Reserve. In so doing, the Arkansas Democrat put his party behind a centrist economic approach that spurred a rapid economic expansion and cheered the finance industry.
Personnel as well as policy bore a Wall Street pedigree. Three of the past four Democratic Treasury secretaries worked for Citigroup before or after their government tour, according to Warren, who says similar revolving doors spin at Goldman Sachs Group Inc. and JPMorgan Chase & Co.
Campaign Money
Now, the wavering alliance between Democrats and Wall Street is reflected in campaign donations. After swooning for candidate Obama in 2008, when the finance industry gave 58 percent of its cash to Democrats, the industry has tilted toward Republicans. The president's rhetorical jibes at "fat-cat bankers" and the passage of the Dodd-Frank law explain the soured romance.
This year, 38 percent of the industry's $176 million in campaign contributions went to Democrats, according to data from the Center for Responsive Politics.
Though bankers see Obama as too tough on finance, many party progressives think he has too often done the industry's bidding.
As the next presidential campaign approaches, Democrats such as Warren, Senator Bernie Sanders, a Vermont socialist, and former Senator James Webb of Virginia will push Hillary Clinton to side more with workers. The former secretary of state has given paid speeches to investment banks while declaiming the rich-poor gap in other venues.
Warren is "trying to influence how Hillary frames her candidacy and the issues she focuses on," David Axelrod, a former top adviser to Obama, told MSNBC this week.
In a recent Bloomberg News poll, 41 percent said Clinton's Wall Street ties were a disadvantage compared with 52 percent who welcomed them.
Banks Bigger
Populists in both parties share an antipathy for concentrated financial power. And despite the Dodd-Frank act, which was partly intended to prevent banks that were "too big to fail" from requiring taxpayer bailouts, the biggest institutions remain swollen.
The five largest banks hold more than $9 trillion in assets, equal to 52 percent of the economy, according to the Federal Reserve. Six years ago, on the eve of Lehman Brothers' bankruptcy, the assets of the five largest institutions equaled 48 percent of U.S. output.
Both Republican and Democratic presidents have been overly dependent upon Wall Street for policy advice, says Cam Fine, president of the Independent Community Bankers of America, which represents more than 6,500 smaller lenders.
"It is all Wall Street all the time," he said.
Industry executives dispute that, saying the regulators on the Financial Stability Oversight Council, which is designed to watch for potential bubbles, aren't Wall Street veterans.
"Look at who's around that table now, and they're all -- they're all excellent, but they all have either academic backgrounds or government backgrounds, for the most part," former Treasury official Lee Sachs, co-founder of Alliance Partners, told Bloomberg Television. "Actually the thing that's missing today is someone with a finance or market background."
Before it's here, it's on the Bloomberg Terminal.
LEARN MORE