Obama Praises James Flacco, er, Franco
The president name-checks the two stars of 'The Interview.' Kind of.
by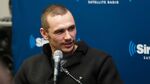 It's pretty awesome to have President Barack Obama mention your name in a high-profile press conference. Unless, of course, he gets it wrong.
That's exactly what happened to actor James Flacco ... er, Franco ... on Friday. Asked a question about Sony's decision to pull  "The Interview," Obama singled out the satirical movie's two stars. He just didn't get one of their names exactly right.
A quick transcript of the president's remarks:
"I think it says something interesting about North Korea that they decided to have the state mount an all-out assault on a movie studio because of a satirical movie starring Seth Rogen and James Flacco. I love Seth. And I love–and I love James. But the notion that that was a threat to them, I think gives you some sense of -- of the kind of regime we're talking about here."
Maybe the president's steady diet of sports coverage is responsible for the flub. Joe Flacco is the quarterback for the Baltimore Ravens. 
Of course, there's already a Vine of the video clip.
And, a Obama name generator, courtesy of our friends at Slate.  
Before it's here, it's on the Bloomberg Terminal.
LEARN MORE