6 Things to Look for at Obama's News Conference
The president will meet the press for one last time before heading off for his Christmas vacation
Annie Linskey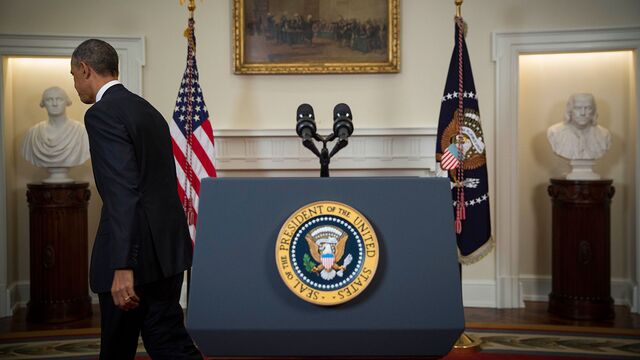 President Barack Obama will hold a final news conference at 1:30 p.m. Eastern time Friday before jetting off to Hawaii for his annual Christmas vacation.  According to CBS News' Mark Knoller, it's the president's 33rd formal solo news conference, and the first since Nov. 5, the day after the midterm elections.
There's been no shortage of news in the past several weeks, and it will likely be the longest presidential news conference of the year with each network, wire service and major newspaper expected to get a question.  Here are some topics to expect:
Sony hacking
The president will almost certainly be asked about the cyber-attack on Sony Entertainment, widely believed to be the work of North Korea, whether the company did the right thing by pulling the movie "The Interview," and what the U.S. response will be.
Cuba
The decision to normalize relations with the island nation 90 miles to our south caught most of Washington off guard. Will the White House push for further measures, such as the lifting of the Cuba trade embargo through Congress, or does it anticipate a fight as some Republicans try to block the president's actions?  Will there be high-level visits to Cuba? 
Executive actions
The Cuba decision plays into a larger theme of Obama's increasing use of executive power. So expect some questions from reporters looking for hints about what unilateral move he might make next.
The new Congress
When Obama comes back to Washington, the newly Republican Senate will be getting to work. That new dynamic will prompt some questions about how he will work with the opposition party and where he expects to find common ground. Obama's also seeing some stronger opposition develop in his own party from the left, and these days no gathering of Washington journalists can occur without a question forming about the so-called Elizabeth Warren wing of the party.
CIA interrogation 
The president already has been asked about the Senate Select Committee on Intelligence report that outlined the CIA's treatment of suspected terrorists. "The CIA set up something very fast, without a lot of forethought to what the ramifications might be, that the lines of accountability that needed to be set up weren't always in place," Obama told NBC.  More questions are likely, including what kind of changes the report has prompted at the CIA. 
White House security
There are some improvements under discussion for 1600 Pennsylvania Avenue, including a new, higher fence designed to more effectively keep intruders away from the First Family.
Before it's here, it's on the Bloomberg Terminal.
LEARN MORE