Being Senate Majority Leader Isn't What it Used to Be
Senator Ted Cruz and his gang could make things difficult for the soon-to-be Senate majority leader.
by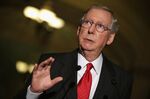 When Ted Cruz, the junior Republican senator from Texas, tried to blow up the carefully negotiated bipartisan deal to keep the government running, he skipped the courtesy of giving the head of his own party, soon-to-be Senate Majority Leader Mitch McConnell, any advance warning. Cruz waited to take the Senate floor late on Dec. 12—a Friday—until after reports circulated that McConnell had left the Capitol building for the night, along with most of the Republican caucus, many of whom were headed back to their home states for the weekend. Cruz then blasted his own partisan colleagues for "playing Santa to K Street" with the $1.1 trillion spending package for 2015. "That is where a lot of these retiring members are going to go," he said to a largely empty chamber, referring to lobbying firms. "A perfect way to start your job is to ensure that you come with goodies for the rich and powerful."
The maneuver backfired spectacularly. Democrats seized on the procedural opening Cruz created to advance a backlog of executive appointments that Republicans had stalled for months, including the confirmation of Vivek Murthy as surgeon general. "I'd rather just look forward," McConnell told reporters a few days later, on Dec. 16. "We are where we are."
Republicans may have succeeded in taking back a majority in the Senate, but McConnell is dogged by the same old problem that's bedeviled John Boehner, his counterpart in the House, since 2010, when the GOP won the majority there: a rebellious Tea Party faction bent on preventing any compromise with the Obama White House, no matter what the political cost to the broader Republican cause. Senior party leaders—and donors—want McConnell to steer a centrist course in the Senate in preparation for the 2016 presidential campaign. So far he's promised "a responsible, right-of-center governing majority," a legislative agenda designed to help Republicans facing 2016 campaigns in relatively purple states such as Pennsylvania, Ohio, and Florida. With Cruz and at least two other Republican senators, Marco Rubio of Florida and Rand Paul, who represents Kentucky along with McConnell, weighing presidential runs, the new majority leader's success will rest on finding a way to quiet the free agents in his own party.
That's easier said than done. The days of an all-powerful leader in the mold of Lyndon Johnson, who passed legislation first in the Senate and later at the White House by wheeling, dealing, and, of course, threatening, are over. As one Republican senator, who was reluctant to critique his leader on the record, put it: McConnell doesn't have the option of ruling with an iron fist. He also doesn't have the option of resorting to an arsenal of threats and favors that were once critical to greasing the machinery of Congress. In the past, majority leaders have been able to tame renegades by taking away coveted committee assignments, withdrawing financial support for their campaigns, or promising political pork through spending earmarks, which the Republican-led House voted in 2010 to eliminate from the budget process.
Now, thanks to Supreme Court rulings that opened up virtually unlimited campaign spending, a single billionaire backer can prop up a candidate through outside spending groups. That means iconoclasts like Cruz don't have to worry about alienating their superiors on Capitol Hill, as long as they can find enough wealthy backers to agree with their positions. Opposition is also the fastest way to become a political star. The right video clip of a Senate floor speech can easily be turned into a million-dollar "money bomb" among smaller donors, a tactic that's been successfully used by a number of candidates, including Paul.
McConnell has tried his best to embrace his party's right flank, working hard, as Senate Majority Leader Harry Reid put it, "to make love to the Tea Party." But one of the greatest ironies of his political life is that despite his new role as the face of Republican obstructionism, he's also a master parliamentarian. It was McConnell who successfully struck deals with Senate Democrats and the White House to raise the debt ceiling in 2011, avert the fiscal cliff in 2012, and reopen the federal government in 2013 after a two-week shutdown—an effort, led by Cruz, to block the launch of health insurance exchanges under the Affordable Care Act. "When Mitch says, 'Joe, I have 41 votes,' or 'I have 59 votes,' it is the end of the discussion. You know that's true," Vice President Joe Biden said during a 2011 visit to a conference center named for McConnell at the University of Louisville. "He has never once been wrong in what he's told me."
The only real punishment Cruz suffered after his one-man performance on Dec. 12 was a round of criticism from his Senate colleagues, who complained to reporters about having to miss holiday plans with their kids to return to Washington. "You should have an end goal in sight if you're going to do these type of things, and I don't see an end goal other than just irritating a lot of people," said Senator Orrin Hatch, a Utah Republican. So far, there are no signs that the public shaming has had any effect on Cruz. At a private Senate lunch several days after the vote, Cruz apologized for upending other senators' weekends, but he expressed no remorse about the political statement it made.  "Republican leadership in both Houses has promised publicly that they intend to fight," Cruz told reporters in Washington. "I very much hope we follow through on those public commitments and promises."
McConnell's weakness could turn out to be a Democratic strength. With a majority of just 54 Republicans, McConnell needs at least six Democrats to pass legislation, and more with every conservative Republican who defects. Democrats have their own internal divisions, illustrated by Massachusetts Senator Elizabeth Warren's public break with the White House over the budget deal. But McConnell doesn't need to get the entire Democratic caucus. He just needs to find enough votes to get his bills through. The more Cruz, Paul, and Rubio object, the greater the need for McConnell to reach across the aisle, giving a beleaguered minority a boost of backroom power. "Some of the things that have happened here in the last several days show they have some issues to resolve," says Illinois Senator Dick Durbin, the Senate's number two Democrat. "When the other side is not unified, it's easier to negotiate." 
Before it's here, it's on the Bloomberg Terminal.
LEARN MORE