Thune Doesn't Rule Out White House Bid as Bush Tests Water
Kathleen Hunter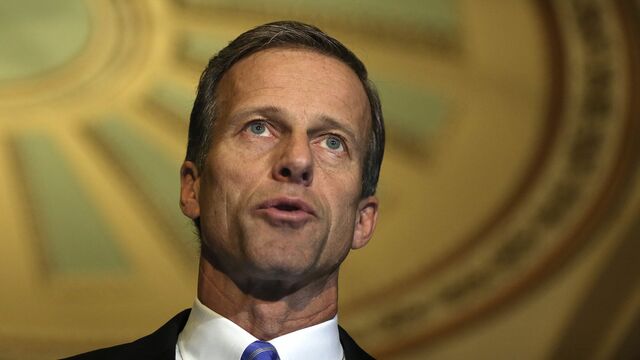 Third-ranking U.S. Senate Republican John Thune of South Dakota isn't ruling out a 2016 White House bid.
Asked today in Washington whether he is running, Thune replied: "Not at the moment."
Should he run, Thune predicted he would "would be yet another one of the multiple candidates" from the establishment wing of the party in competing for the Republican nomination.
Thune, who won his Senate seat by defeating Senate Democratic leader Tom Daschle in 2004, made his comments in an interview at the Capitol on the same day that former Florida Governor Jeb Bush said he would "actively explore the possibility" of a presidential run.
Thune said he anticipated a crowded field with "competition on the establishment track." In addition to Bush, potential Republican candidates include New Jersey Governor Chris Christie and 2012 nominee Mitt Romney.
Presidential speculation is "starting fairly early," Thune said. "I think that's because there are a lot of people who are contemplating it."
Three fellow Senate Republicans -- Ted Cruz of Texas, Rand Paul of Kentucky and Marco Rubio of Florida -- also are considering presidential runs. All three have ties to the Tea Party, which seeks a smaller government.
Before it's here, it's on the Bloomberg Terminal.
LEARN MORE