The Coming Explosion of the Cuban Cigar
The cigar community is getting ready to taste the forbidden fruit—will it be as great as they've dreamed?
by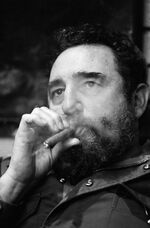 The news that the U.S. will restore diplomatic relations with Cuba dropped like a bombshell this morning. But let's be frank: unless you're Henry Kissinger, your first question isn't about the geostrategic implications of this development. It's about how soon you'll be able to buy legendary Cuban cigars, so coveted that John F. Kennedy sent his aide Pierre Salinger to acquire a supply of 1200 just before he imposed the embargo in 1962. At W. Curtis Draper Tobacconist, a favorite lobbyist hangout down the block from the White House, the atmosphere was palpably excited (and smoky).
 "We don't know yet what normalizing relations means," says Matt Krim, the shop's co-owner. "But if the [Cuban] embargo is lifted, there will be a mini cigar boom. Americans have the mentality that Cuban cigars are the best. Everybody will want to try one."
 A White House briefing for reporters suggests that, at least initially, obtaining a Cuban Cohiba won't be quite as simple as visiting your local tobacconist. "Authorized travelers to Cuba will be allowed to return with $400 of general goods and up to $100 for tobacco/alcohol for personal consumption," said a senior administration official. Visitors to Cuba will be able to bring back cigars. But Cuban cigar makers apparently won't be able to export their wares to the U.S.
At least not right away. The embargo will be around indefinitely—Obama called for "an honest and serious debate about lifting it."  Eventually, though, the warming of relations between the U.S. and Cuba will almost certainly change this–and perhaps soon. That would alter the $13 billion U.S. cigar market, where there's expected to be an intense demand for Cuban cigars.
 "Typically, the flavor profile is a salinity, an underlying salty characteristic to the tobacco, that's a change from Dominican and Honduran cigars," says Krim. "It's a cool switch from what you're used to. From a retail level, I expect people will go and buy whatever Cuban brands they can get their hands on."
Whenever Cuban cigars do arrive on these shores, they'll be pricey. Kip Talley, the senior director of federal legislative affairs International Premium Cigar and Pipe Retailers Association, says that premium cigars– 100 percent tobacco, no additives or filters, none of those cheap plastic tips–usually cost between $4 and $12, and up to $500 for a Davidoff Oro Blanco. Cubans are premium. "You're not going to see them at 7-11s or gas stations," he says. "I think there'll certainly be a spike in sales, and that will be good for retail tobacconists."
Up until now, tobacco enthusiasts' big issue in Washington has been pushing legislation to legally designate the "premium cigar" industry (a market of 270-300 million cigars) from the broader market–to distinguish them from cheap-ass cigarillos. Wednesday's news will likely broaden that effort to include the importation of Cuban cigars. "It's what the customers are going to want," says Talley, "because for so long it has been the forbidden fruit."
Before it's here, it's on the Bloomberg Terminal.
LEARN MORE