Republicans Rustlin' Up Some Cash With Dick Cheney
The party has already socked away $3 million from Bush-themed footwear.
by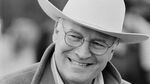 The Republican Party hopes Dick Cheney will do for heads what George H.W. Bush did for feet. Cheney cowboy hats go on sale Wednesday as the latest fashion-forward fundraising gimmick for the Republican National Committee–the same group that brought us colorful, striped socks a la President George H.W. Bush.  
Hawking wardrobe items is actually paying off. The RNC says it  has raised more than $3 million from the Bush socks since introducing them in April. More importantly, the socks have delivered more than 35,000 new donors to the party–people who can be tapped for future contributions. Tens of thousands of them have already given again, said RNC spokeswoman Kirsten Kukowski.
Cheney, who served as vice president for eight years under the sock master's son, returned to the news this month with the release of a Senate Intelligence Committee report on torture. But the RNC's sales pitch is aimed at Americans who have fond memories of the gruff, commanding VP from Wyoming. His affection for ten-gallon hats became something of a meme earlier this year when a TMZ reporter spotted him wearing one in Washington and asked why that sort of head gear hasn't caught on with rappers. "If Cheney's wearing it, it's probably a little too conservative for the hip-hop crowd," he opined. 
The Cheney hats cost $72.  And of course they are "limited edition." That same terminology describes the Bush socks, which have been available for eight months now.
If the RNC wants to expand its Republican folkwear line, there are many options.  How about a Rick Santorum sweater vest? Or Ted Cruz's black ostrich "arguing boots?" Or perhaps, some Rand Paul denim?
Before it's here, it's on the Bloomberg Terminal.
LEARN MORE