Obama Pulls Cuba Out of Cold War
The president's move highlights changing opinions of the embargo and the differences among his potential 2016 successors.
by and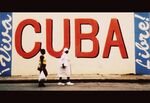 Politics may finally be catching up with public opinion when it comes to Cuba.
Every Gallup poll since 1999 has shown a majority of Americans favoring diplomatic relations with Cuba, and most of the world sees the embargo as a vestige of the Cold War. Cuban-American voters, long considered a staunchly Republican voting bloc, have increasingly been backing Democrats. Even Beyonce and Jay Z went to Cuba to celebrate their anniversary last year, a controversial trip that the Obama administration agreed was legal. 
That's why President Barack Obama's move on Wednesday to normalize relations with the communist island 90 miles south of Florida is historic and not all that politically fraught. "It's major, major news that signals the end of Cuba policy being a third-rail issue in American politics," said Fernand Amandi, a Florida-based polling expert who has worked for Democratic presidential contenders and Republican state legislative candidates.
Of course, the change in course is not a political slam dunk. The release of three Cuban spies from U.S. detainment as part of the deal may not sit well with Americans. The divided reaction from lawmakers could lead to an extended battle in Congress over whether to fully lift the trade embargo, which Obama stopped short of doing. And with Cuban-Americans still accounting for about 10 percent of Republican primary voters in Florida—the largest electoral battleground—the move is certain to be re-litigated in the 2016 presidential campaign.
"I don't think we should be negotiating with a repressive regime to make changes in our relationship," former Florida Governor Jeb Bush, who is weighing a Republican presidential run, told reporters in Miami just hours before Obama spoke from the White House. Texas Senator Ted Cruz told Fox News that the announcement "will be remembered as a tragic mistake." And minutes after Obama finished his remarks on Wednesday, Florida Senator Marco Rubio, the son of Cuban immigrants, held his own news conference and vowed to "unravel" as many of the president's changes as possible.
Under Obama's plan, the administration will open an embassy in Cuba, U.S. companies will be permitted to export certain items to Cuba, and Americans on approved trips will be able to use credit cards in Cuba and bring home up to $100 in Cuban cigars or alcohol.  
"I don't care if 99 percent of people in polls disagree with my position," Rubio told reporters in Washington. "This is my position and I feel passionately about it. And I'm glad I'm on the side of freedom and democracy. I'm glad I'm on the side of human rights."
Obama's supporters say he is simply bringing the U.S. into the modern era of international diplomacy: The U.N. General Assembly has voted 23 times to condemn the economic embargo. This year, 188 countries voted for the resolution—only the U.S. and Israel voted against it. "Neither the American nor Cuban people are well served by a rigid policy that's rooted in events that took place before most of us were born," said Obama, noting he was born two years after Fidel Castro took power in Cuba.
Wednesday evening, Obama's former Secretary of State, Hillary Clinton, applauded the president's move. 
"I am deeply relieved by Alan Gross's safe return to the United States and I support President Obama's decision to change course on Cuba policy, while keeping the focus on our principal objective—supporting the aspirations of the Cuban people for freedom," Clinton said in a statement. "It is great news that Alan is finally home with his family, where he belongs.  As Secretary of State, I pushed for his release, stayed in touch with Alan's wife Judy and their daughters, and called for a new direction in Cuba."
Another administration official, who's been in the middle of the negotiations all year, said while the domestic political implications of the decision were a secondary consideration, a number of factors offset some the predictable opposition to the move. Among them, said this official, who requested anonymity to discuss internal White House deliberations, was the expected support from parts of the business community which is eager to expand into a new market and Jewish organizations who'd spent years working for the release of Alan Gross, an American imprisoned in Cuba. Pope Francis's involvement in the negotiations is another obstacle to strident opposition, the official argued, especially as Republicans are trying to woo Hispanic Roman Catholics.
Another traditional Republican objection, that improving relations with Cuba would be a setback in the war against global Communism, has been irrelevant for more than two decades now and is even more so today with capitalist Russia facing an economic crisis. In fact, the official said, the move is a blow to Russian leader Vladimir Putin's more assertive Russia, and also complicates China's efforts to win economic and political allies in the Western Hemisphere.
Still, the embargo had a tight hold on American political life because of the unique power of the Cuban community in Florida. Cuban-Americans account for just 3.3 percent of the 54 million Hispanics in the U.S., Census data show. Yet two-thirds of the nation's 1.8 million Cuban-Americans live in Florida. "There's a reason why President Clinton didn't get out in front of this," said Steve Schale, a Democratic strategist in Florida. "This would have been an entirely different conversation in 1996 or 2000. This issue isn't the pass-fail it once was." Even Obama bowed to the pressure: In 2007, as he prepared for his presidential run, he reversed his previous position calling for an end to the ban, and came to support it. "I will maintain the embargo," Obama said in a May speech in Miami in 2008. "That's the way to bring about real change in Cuba—through strong, smart and principled diplomacy."
But that voting bloc is splintering. The children of Cuban-American immigrants are increasingly likely to buck their parents' Republican loyalties and vote for Democrats, according to polling data. Obama won 48 percent of the Cuban-American vote in Florida this year, nearly twice as much as Al Gore, the Democratic presidential candidate in 2000, according to exit polls from Miami-based Bendixen & Amandi International, a polling firm specializing in Hispanic community surveys.
The shift has changed the political calculus for winning the state, helping Obama become the first Democrat in 68 years to win Florida twice. It also creates new hurdles for Republicans, who are searching for ways to win favor among Hispanic voters after losing four of the last six presidential contests.
For Rubio and Texas Senator Ted Cruz, also the son of Cuban immigrants, the issue is personal. Bush, a fluent Spanish speaker once jokingly called the "first Cuban-American governor," reiterated his long-held support for the embargo to Cuban donors gathered in Coral Gables two weeks ago. "I would argue that, instead of lifting the embargo, we should consider strengthening it," he said. On Wednesday, Bush said in a statement that Obama's decision was a "misstep" and "another dramatic overreach of his executive authority."
"It undermines America's credibility and undermines the quest for a free and democratic Cuba," Bush said. 
Other Republicans have yet to take a position on the issue. Kentucky Senator Rand Paul declined to comment and his office said he's never taken a public position on the embargo. 
Democrats, meanwhile, are increasingly calling to end the embargo. Former Secretary of State Hillary Clinton, who backed the trade ban in her 2008 campaign, shifted her position this year. "The conclusion that I certainly have reached is that the embargo is Castro's best friend," she said in a June speech before the Council on Foreign Relations. "We should advocate for an end of the embargo." When a Fusion news reporter asked a month later whether she would consider visiting the island for a "Nixon goes to China" moment, she responded positively. "You know, someday I'd like to go to Cuba."
—John Walcott contributed to this article.
Before it's here, it's on the Bloomberg Terminal.
LEARN MORE