Cuban Prisoner Swap, Policy Shift Spur Bipartisan Criticism
Democratic Senator Bob Menendez and a slew of Republicans praise Alan Gross' freedom while blasting the Obama administration's approach.
by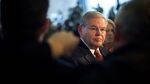 Lawmakers on both sides of the aisle criticized the Obama administration Wednesday after reports that Cuba was releasing American prisoner Alan Gross on humanitarian grounds while the U.S. was sending back three of the so-called Cuban Five prisoners.
New Jersey Democrat Bob Menendez, chairman of the Senate Foreign Relations Committee, praised Gross' freedom but blasted President Barack Obama's handling of the deal.
"Let's be clear, this was not a 'humanitarian' act by the Castro regime," Menendez said in a statement. "It was a swap of convicted spies for an innocent American. President Obama's actions have vindicated the brutal behavior of the Cuban government. There is no equivalence between an international aid worker and convicted spies who were found guilty of conspiracy to commit espionage against our nation."
"Trading Mr. Gross for three convicted criminals sets an extremely dangerous precedent," Menendez added.
The terms of the deal include more than just Gross, administration officials say: 
The U.S. and Cuba also made a parallel prisoner exchange of three Cuban intelligence agents for a U.S. intelligence asset who has been imprisoned for more than 20 years, according to administration officials who briefed reporters on condition of anonymity before Obama speaks. Cuba also agreed to release 53 people the U.S. considers political prisoners, some of whom have already been released, the officials said.
House Speaker John Boehner in a statement called the move a "mindless concession."
"Relations with the Castro regime should not be revisited, let alone normalized, until the Cuban people enjoy freedom—and not one second sooner," Boehner said.
Representative-elect Carlos Curbelo, a Florida Republican who will represent the U.S. House district closest to the Cuban mainland, said in a statement that he was "happy" for Gross and his family but that the administration's "unilateral changes to U.S.-Cuba policy represent an affront to the U.S. Congress."
"The Cuban dictatorship cruelly held him hostage for over five years in an effort to extort the Obama Administration," Curbelo said. "It worked."
Senator Marco Rubio, another Florida Republican, joined in, saying in a statement that he planned to "use my role as incoming chairman of the Senate Foreign Relations Committee's Western Hemisphere subcommittee to make every effort to block this dangerous and desperate attempt by the president to burnish his legacy at the Cuban people's expense." His parents are Cuban immigrants and he is considering a presidential run in 2016.
Another potential Republican presidential candidate, former Florida Governor Jeb Bush, said Gross' release was welcome news and held off on criticism of the deal, according to video of his comments published by CNN. Speaking a day after he announced plans to more formally explore a White House bid, Bush said "the fact that he's coming home is spectacular news for himself and for his family on the first day of Hanukkah."
Senator Jeff Flake of Arizona took a different tack than many of his fellow Republicans, saying in a statement that he had joined Gross "as he touched down on U.S. soil" after visiting him last month and that the day's announcements were "significant and far-reaching." He tweeted this photo:
Derek Wallbank and Kristin Jensen contributed to this report.
Before it's here, it's on the Bloomberg Terminal.
LEARN MORE