A Patriot's Gift Guide
For employees of the federal government, there's more than the rules of etiquette at stake.
by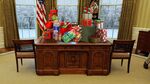 The pressure to find the right gift is an inescapable part of holidays. What to give? Where to buy? How much to spend? Fortunately, for U.S. government employees, specifically those who are shopping for colleagues who have more take-home pay than they do, that last question is moot. According to the U.S. Office of Government Ethics (Preventing Conflicts of Interest in the Executive Branch!), $10 or less is the approved spend—but only as an exception to a standing rule that prohibits giving gifts to one's betters.
"On an occasional basis (including for a birthday or annual holiday), an employee may give, and the official superior (or person receiving more pay than the employee) may accept: gifts, other than cash, having a market value of $10 or less per occasion," says Subpart C of 5 C.F.R. part 2635 . On ordinary days, however:
-An employee may not give (or contribute toward) a gift for the employee's official superior.

-An employee may not accept a gift from another employee who receives less U.S. Government pay, unless the employee is not the employee's subordinate and a personal friendship justifies the gift.

-An employee may not ask another employee for a contribution toward a gift for the employee's own official superior or for the other employee's official superior.
The notion that everyone knows (or can easily find out) exactly what their colleagues make is thought-provoking.
There's an overt classification and pay system that covers some 1.5 million civilian white-collar federal employees in more than 400 occupations (among them: data transcriber, explosives safety specialist, labor economist, nuclear materials courier, outdoor recreation planner). Base pay is adjusted every January "based on nationwide changes in the cost of wages and salaries of private industry workers," and accounts for cost of living, adjusted for geography. Within this General Schedule, there are 15 grades, each with 10 steps between (most folks spend 18 years climbing from step 1 all the way to 10). Even if you've known your coworkers for less time than it takes a kid to get from cradle through high school, it's pretty easy to figure out who makes what.
But what is a gift? The term "gift," says the U.S. Department of Justice, includes almost anything of monetary value. Some things, however, are not "gifts," including soft drinks, coffee, donuts, and "items of little intrinsic value which are intended solely for presentation" (greeting cards, plaques, certificates, and trophies).
It is permissible to give or accept a gift of any price from another employee "as long as a personal friendship justifies the gift and the employees are not in the same supervisory 'chain of command.'" If that's the case, the official superior can always buy the gift from the giver.
Or a giver can simply stay in line by following this Bloomberg Politics gift guide: 
PEZ Presidents

At $16.95, this gift exceeds the limit, but tear open a package—Presidents of the United States Volume II, 1825-1845, or Presidents of the United States Volume III, 1845-1861—and you've got five individual gifts costing only $3.39. 
Hillary: The Coloring Book

From childhood to "what if" she becomes the first female president, the 64-page Hillary: The Coloring Book, $10, is perfect for anyone who already owns crayons. 
Ted Cruz to the Future

Updated in November with an 8-page "Ted Saves America" supplement, the Cruz to the Future coloring book is the story of how Ted Cruz became a senator, and at $5.99 there's change to spare for a cup of...coffee. 
Lines for All Occasions

For the less tenured Washingtonian: pocket-sized primers. "Flattery and Faint Praise" or "Guilt Trips and Mind Games" make a great gift investment at $9. 
I Kissed a Republican/Democrat Gum

Accidents happen. Eight chances (pieces) to clean up cheaply, $1.49, with this germ-repellent peppermint gum. 
Vote Cards

Not voting, to paraphrase FDR, is the only way to deprive the American people of the right to vote. These subtle vote cards (get it?), $8, are nudges tempered by the joy of receiving actual (gorgeous) mail. 
Intern Keytag

This keytag exceeds the guidelines at $15, but it's perfect for someone who makes less than you do: the unpaid intern. At nearly twice the federal minimum wage, it's sure to be valued. 
Before it's here, it's on the Bloomberg Terminal.
LEARN MORE