Iowa Republican Boss Walks 'High Wire' Ahead of Straw Poll
Can Jeff Kaufmann unite his party—and will the carnival-like straw poll live on?
by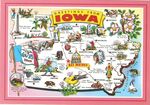 Jeff Kaufmann's calendar is as good a barometer as any when it comes to predicting which Republicans are likely to run for president in 2016.
Since June, when Kaufmann was elected chairman of the Republican Party of Iowa, he's met with Texas Governor Rick Perry as well as Louisiana Governor Bobby Jindal, who on Tuesday is making his fourth trip to the state this year. New Jersey Governor Chris Christie wants to schedule a sit-down. So do Senators Rand Paul of Kentucky and Marco Rubio of Florida, and neurosurgeon-turned-conservative activist Ben Carson.
"They just want to know what the playing field is going to be like," said Kaufmann, who will likely be the person most responsible for juggling the competing Republican interests during the next 14 months leading up to the Iowa caucuses, the nation's first presidential nominating contest. "I tell them, with rigor, that I'll be neutral."
Kaufmann faces a similar challenge at home, as he tries to patch and heal a rift in one of the most important Republican state organizations. Two years ago, loyalists of former Texas Representative Ron Paul wrenched control of the Iowa GOP; earlier this year, establishment Republicans including Governor Terry Branstad took it back through a series of leadership changes that ended with Kaufmann's election. Next month, he plans to seek a full two-year term.So far, no significant opponent has emerged–perhaps with good reason.
The job, said former Iowa GOP chair Matt Strawn, "is constant bombardment from campaigns, candidates, and esteemed members of the fourth estate."
"It is a high-wire act because you need to balance naturally suspicious campaigns, naturally suspicious interest groups and members of the RNC who are jealous of the role Iowa plays," Strawn said.  
The new chairman acknowledged the intramural divisions when he spoke at the party's recent Reagan Dinner in Des Moines. "We may be a little dysfunctional sometimes, but we are a family," the seventh-generation livestock farmer bellowed from the podium.

Republican Joni Ernst's win in Iowa's U.S. Senate race in November helped heal wounds within the party, and Kaufmann has the personality to finish the job, Strawn said. "Nothing promotes unity better than winning elections," Strawn said. "Jeff Kaufmann is fearless and has never been afraid to either pick or finish a fight."
The elimination of the Paul forces was important to many potential presidential candidates. Without the change, they feared that Paul's son Rand, the Kentucky senator, might enjoy an unfair advantage in the nominating process. The party's new leadership is mostly a mix of establishment Republicans and evangelical Christian conservatives and they've taken a pledge to remain neutral in the race.
"Kaufmann can unite all sides," said Doug Gross, a Des Moines lawyer and Republican activist who was once Branstad's chief of staff. "The party was literally dysfunctional and had no money. It had been looted and left for dead at the side of the road."
There's another question about the state party: Whether it will continue to host the Iowa Straw Poll, a carnival-like event held the August before the caucuses. It's no surprise that Kaufman says the question comes up whenever he meets a possible presidential candidate. The event is potentially just eight months away and requires massive organizational efforts. Critics have complained the straw poll gives Iowa two "first" events in the nomination process, though the straw poll is nonbinding. It's also proven to be a bad predictor. Representative Michele Bachmann of Minnesota won the 2011 straw poll but finished sixth in the caucuses. She dropped out of the nomination race the following morning. Branstad on Monday told Iowa reporters that the summer balloting should be ended. 
No decision has been made, but Kaufmann promises the party will host "something in August." He said he hopes there will be a definitive answer by year's end. One option is to replace the straw poll with "two or three events" that would attract presidential candidates and offer greater potential for party fundraising. Why do anything? The absence of a straw poll-like event could create a vacuum that might be filled by one of the state's social conservative groups, such as the Family Leader, a coalition that opposes abortion rights and gay marriage. Establishment Republicans don't want to see social conservatives exert too much influence in the caucus process, for fear that they'd frighten away more moderate candidates.
Whatever the decision, Kaufmann said the state party must be welcoming to all prospective presidential candidates. "I don't care if people say Chris Christie is too moderate or Ted Cruz is too conservative," he said. "I want them here."
Kaufmann, 51, served in the Iowa House of Representatives from 2005 to 2013, including six years in leadership positions, so he knows Republicans in every corner of the state. His former district in eastern Iowa is competitive between Republicans and Democrats, so he's learned how to moderate his message. "I do not believe the Republican Party has all the answers," he said. "Iowa has shown that split government can work." Cedar County, where he lives, cast the exact same number of votes for George W. Bush and Al Gore in the 2000 election.
Besides also being a county supervisor and a farmer, Kaufmann is a history and government professor at Muscatine Community College. His son, Bobby, serves in the Iowa House, so prospective presidential candidates sometimes show up for fundraising events that benefit the state lawmaker, as Paul did in late October.
Kaufmann said the dysfunction among the party's various factions could have been crippling to the 2016 caucuses. "There could have been such harm to the Republican Party," he said. "I don't know if we could have gotten things right for the caucuses."

Fundraising has since picked up, Kaufmann said. The pending 2016 election cycle will offer Iowa Republicans plenty of fundraising opportunities and Kaufmann has set an ambitious goal of raising $1 million in 2015.
What's ahead for Kaufmann? If Strawn's experience is a prelude, every meeting with prospective and declared presidential candidates will be different. Some want to talk about the caucus process, while others want to be briefed on local issues.
Strawn said he distinctly remembers Bachmann cornering him outside a baseball stadium in Des Moines in 2011 because she wanted to talk about the integrity of the rules governing the straw poll. "It was a window into the attention to detail that some of these candidates have," he said. Meanwhile, Senator Rick Santorum of Pennsylvania wanted a briefing on the "nuances of the different players within the different factions within the party" when he first ran for president in 2012.
"The success we had in November gives Jeff greater credibility to keep the peace during what is always a very divided caucus process," Strawn said. "The intra-party shooting will start once the presidential teams are assembled. The role that Jeff can play is to make sure that campaigns are fighting hard, but fighting fair, and try to maintain at least some party unity."
Before it's here, it's on the Bloomberg Terminal.
LEARN MORE