Jeb Bush Says He Will 'Actively Explore' Presidential Run
The Republican will form a leadership PAC next year, he says on Facebook.
by and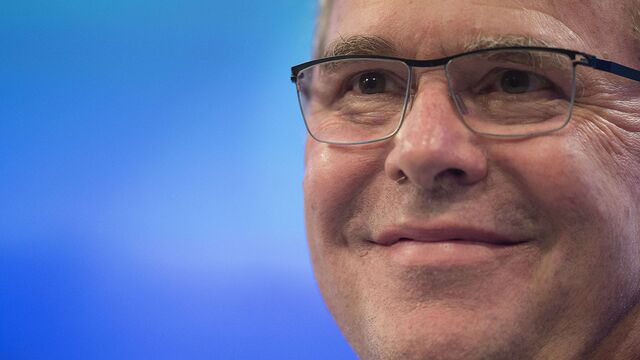 Former Florida Governor Jeb Bush said Tuesday he's taking a major step toward running for the Republican presidential nomination in 2016, a move that could put pressure on other candidates to make their intentions known sooner than expected.
"I have decided to actively explore the possibility of running for President of the United States," Bush, 61, wrote in a Facebook post to which he linked from his verified Twitter account. "In January, I also plan to establish a Leadership PAC that will help me facilitate conversations with citizens across America to discuss the most critical challenges facing our exceptional nation. The PAC's purpose will be to support leaders, ideas and policies that will expand opportunity and prosperity for all Americans."
The move comes as speculation about a third White House bid by former Massachusetts Governor Mitt Romney has continued to heat up, and it may have been designed to blunt some of that talk. Romney, the 2012 Republican nominee, has repeatedly said he has no plans to run and has heaped praise on Bush.
In recent weeks, Bush has been quietly touching base with his family's longtime supporters and donors by sending them personal messages and asking that they stay on the sidelines until he makes his decision.
"This is a smart move by Jeb to try and clear the field," said Bobbie Kilberg, a longtime Republican donor and fundraiser in Northern Virginia. "This may force the hands of the other candidates to move earlier than they may have wanted to."
Senator Rob Portman of Ohio, who earlier this month said he was not going to run in 2016, told reporters on Capitol Hill that a Bush candidacy would be "good for the party."
Senator Rand Paul of Kentucky, a Republican who is also exploring a 2016 bid, told reporters in Washington that the party offers a "big tent" for all kinds of political perspectives. "We need moderates, conservatives, libertarians," he said. "We need them all. ... The more the merrier."
Bush leads the early primary field nationally in a scenario where Romney doesn't run, according to an ABC News/Washington Post poll taken Dec. 11-14. In some of the states that vote first in the nomination process, Bush has work to do. A Bloomberg Politics/Saint Anselm New Hampshire Poll of likely primary voters in November showed the former governor running in the middle of the potential pack, with the early support of just 14 percent in a Romney-less field.
Democrats were quick to criticize Bush's announcement. 
"I don't know what the difference is between 'thinking about' running and 'actively exploring' running, but I suspect it has a lot to do with keeping his name in the news," said Mo Elleithee, a Democratic National Committee spokesman, in a statement. "However you see it, there's no parsing this simple fact: Jeb Bush has fully embraced the failed economic agenda that benefits only a select few at the expense of the middle class. That's not going to change no matter how many different ways he says he may run."
Tom Rath, a New Hampshire Republican who has advised several presidential candidates in his state, including George W. Bush in 2000, welcomed the news. "It means we're going to have a very robust nomination process," he said. "Jeb Bush is an extraordinarily accomplished governor with a strong set of convictions and very significant policy positions that are going to help this party remain competitive in 2016 and beyond." Rath said some of Bush's positions on issues such as immigration will "cause Republicans to reconsider how we approach an electorate that is becoming more diverse."
Henry Barbour, a member of the Republican National Committee from Mississippi who is aligned with a possible 2016 bid by Texas Governor Rick Perry, said Bush's move demonstrates that his party has a "strong and deep bench of potential" candidates. "It's good news that Jeb Bush is giving this serious study," he said. "For anyone seriously thinking about running for president, now is the time for preparation, and the spring will be the time for decision-making. I suspect most of the potential field is already well into preparation. But if they weren't, this should let them know they are already getting behind."
Felix Browne, Perry's communications director, declined to comment on the Bush news. Spokespersons for other prospective 2016 Republicans, including Wisconsin Governor Scott Walker, didn't immediately reply to e-mails seeking comment.
Senator Marco Rubio, who has been viewed as the most threatened by a potential Bush candidacy because the two men come from the same state and are personally close, praised his mentor through a spokesman. "Marco has a lot of respect for Governor Bush, and believes he would be a formidable candidate," spokesman Alex Conant said in a statement. "However, Marco's decision on whether to run for President or re-election will be based on where he can best achieve his agenda to restore the American dream—not on who else might be running."
Cory Tilley, a Florida Republican who was Bush's deputy chief of staff during his first term in office, said Bush could be expected to write his own script if he does run. "He is a serious, policy-oriented candidate, who isn't going to speak off the party talking points all the time," he said. "He'll contrast himself with the current administration. But people are ready to move the country forward and past the gridlock of Washington. He's proven he's willing to reach out across the aisle when needed while also maintaining a very, very conservative record as governor."
On the primary challenges he'll face over his positions on a more open immigration system and Common Core educational standards, Tilley said Bush is a strong defender of his views. "A national campaign will certainly be a challenge," he said. "But if anyone can take it head on, it's him."
On Monday, Bush made no mention of his presidential deliberations when he delivered the winter commencement address at the University of South Carolina. The state hosts the first presidential primary in the South.
"Out in the real world, every day is an exam," Bush said in a reference that could be applied to the constant scrutiny of a national campaign. "Every day you are getting graded."
In an interview broadcast on Miami television over the weekend, Bush said he planned to release an e-book on policy and all his e-mails from his years as governor, which number about 250,000. Those announcements further fueled speculation that he is poised to launch a presidential bid. He said he would make his decision about a run "in short order," meaning late this year or early next year.
In preparing his e-mails and writing the book, Bush said it reminded him that "if you run with big ideas and then you're true to those ideas...you can move the needle."
Bush also used the interview to push back against a Bloomberg story last week that raised questions about whether his finance background would prove to be a political liability, as was the case for Romney. "I'm not ashamed," he said. "Taking risk and creating jobs is what we ought to have more of."
If he runs, Bush said, he would divest himself from his business interests.
In the Facebook post, Bush said family discussions in recent weeks had convinced him to move forward. "In the coming months, I hope to visit with many of you and have a conversation about restoring the promise of America," he wrote.  
—With assistance from Elizabeth Titus in New York and Lisa Lerer in Washington.
MORE FROM BLOOMBERG POLITICS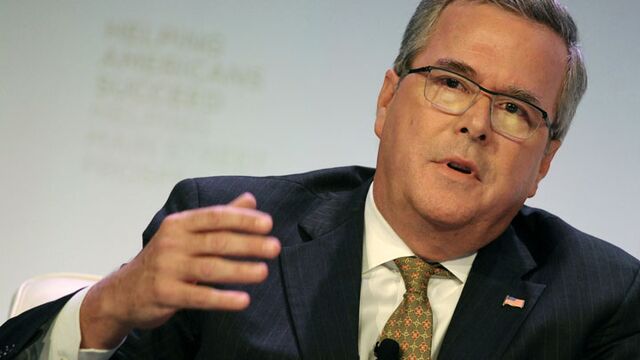 Before it's here, it's on the Bloomberg Terminal.
LEARN MORE