Jeb Bush on Jeb Bush's Liabilities
Four potential problems with a Bush candidacy that really don't amount to much, according to the would-be candidate.
Annie Linskey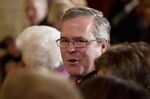 Former Florida Governor Jeb Bush said Tuesday he plans to "actively explore" a presidential run, but official Washington has been chattering about the idea for months—developing a pretty well-known set of hurdles he'd face if he seeks the highest office in the land. Bush, in a bit of preemptive spin, hashed through some of those criticisms in an interview that he gave a Miami TV station on Sunday, during which he all but announced his intention to run.
Immigration
The Tea Party wing of the Republican Party has drawn a line in the sand (or maybe constructed a fence in Congress) when it comes to immigration. They don't want to see the system overhauled until they feel the southern border is secure. A top concern is ensuring that there is no amnesty for those who have come to the country illegally. The groups' leaders say they can motivate tens of thousands of followers to call, write, donate, and even vote on the issue. Bush has drawn their ire for refusing, at a minimum, to adopt the harsh rhetoric of the right.
His take:
"We have a lot of problems to be solved if we fix a few big things and immigration is one of them," Bush said. "Long story short, if I was to run, I would try to persuade people. I'm not going to change what I believe." On the question of amnesty, Bush said that "most people come to this country for their families, plain and simple" and that he "doesn't ascribe evil motives for people wanting to put food on the table for their families." He said those who've broken the law ought to face some kind of "penalty" and need to have a job, learn English, and go to the back of the citizenship line. 
Education standards
Bush's stalwart support for the national learning standards, particularly those known as Common Core, puts him at odds with the far right of his party, which views them as a nationalization of the education system.
His take:
The former governor didn't back away from that position in the interview, though he say he shares some of the opponents' concerns. "Curriculum shouldn't come from Washington, D.C. God forbid that would happen," he said. He added that the federal government shouldn't be able to use its "coercive" powers to "dictate" anything. He went on to defend state-developed programs, including the one he created in Florida, saying they address a common problem that many business, political and educational leaders were detecting. "Our standards are so low that kids graduate from high school and they are not prepared to get a job or go to college," he said. 
Private equity
Bush's recent forays into private equity, detailed by Bloomberg's Joshua Green and Miles Weiss, led to some speculation that he would face a Mitt Romney problem. That is: Bush's business dealings could be picked apart by opposition researchers looking to connect him to all manner of unpleasantness including layoffs, exporting jobs overseas and closing factories, as happened to the Republican Party's 2012 nominee.
His take:
He said it's "flattering" to have his business compared with Romney's Bain Capital, which Bush said the 2012 campaign didn't do a great job explaining to the voters. "We're creating jobs," he said. "I'm not ashamed of that at all." Bush also said he would "pull back" from his business investments if he decides to run. "Taking risks and creating job is what we want to have more of."
Family 
Columba Bush, Jeb's wife of four decades, is famously private. A presidential run—and, if successful, a term in the White House—would put her in the spotlight in a way that many observers have suggested she would dislike—pushing Jeb toward not running. 
His take:
"She's on board," Bush said. "She was a great first lady in Florida. She's a normal person." He added: "She doesn't wake up reading Politico-dot-com. That's why I love her."
Before it's here, it's on the Bloomberg Terminal.
LEARN MORE