Jeb Bush is Following the Family Playbook
His move toward a 2016 presidential bid is likely to speed up the primary process by forcing the hands of other potential candidates.
by , , and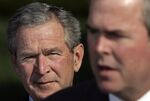 Jeb Bush is entering the 2016 presidential arena following a playbook that resembles his older brother's: Try to lock up Republican donors and staff members early and develop an aura of inevitability.
The former Florida governor, a son and brother to two previous presidents, took his clearest step yet toward a White House bid on Tuesday by announcing that he plans to "actively explore" a campaign and form a new political operation that will allow him to have "conversations with citizens across America to discuss the most critical challenges facing our exceptional nation."
The announcement likely will tamp down on speculation about a third White House bid by 2012 Republican nominee Mitt Romney, who has said he's not running, and ratchet up pressure on such prospective candidates at Chris Christie and Marco Rubio to make their own decisions swiftly. A Bush candidacy presents challenges for the New Jersey governor because they share similar profiles; it's problematic for the Florida senator because they have common donors and supporters; and it's a headache for both Christie and Rubio because they would be trying to appeal to the same set of business-minded, establishment Republican primary voters. 
"Donors and the potential staff who were making noise about going with someone else are more deeply frozen into place now," said Ari Fleischer, a White House press secretary under President George W. Bush and an active player in the 2000 race. "They now got the signal they needed for why they can't commit to anyone else–and that's significant." 
Fleisher, who claims neutrality in the still forming 2016 race, said Bush's announcement will speed up the pace of the presidential cycle. "This is an arms race, and when you see that your neighbor has escalated, you need to escalate," he said. "If there was anyone who could have waited, it was Jeb. This is likely to speed up other people's calendars."
Bush's camp said he has a still-unannounced name for his new political action committee and a travel itinerary has been sketched out for early 2015. Those details will be announced next month. The Floridian's decision wasn't reactive, said Kristy Campbell, a Bush spokeswoman. Instead, the announcement was a "reflection that he is ready to move to a new phase," she said. "It's the general timetable he's set."
Republican fundraiser Fred Malek dubbed it a "gutsy call" on Bush's part that also carries risks. "He's jumping in awfully early and the early bird often gets picked apart." Indeed, while Bush, 61, would bring many assets to a campaign, he would also be vulnerable to attacks from conservatives because of his support for a more open immigration system and Common Core educational standards, both hot-button issues for parts of the Republican base. 
John Jordan, a California winery owner and Republican donor, said he received an email from a Bush aide soon after the Bush announcement went out. "There was sort of a kabuki dance to see which person would get in first. What I hear from my fellow donors is that none of them were going to commit until someone actually had a campaign. Now, here comes Jeb trying to lock that all down. And he had to do it. The noises coming out of Romneyland must have spooked them because there's an awful lot of donor overlap there."  Jordan gave the maximum he could to the Romney campaign in 2012, and augmented his support by contributing large checks to super-PACs and political nonprofits helping the Republican nominee. 
Dirk Van Dongen, a top money-raiser for both former Bush presidents, said he was "delighted" that Jeb Bush has taken this step and is ready to do anything he can for him. "Everybody has been frozen in place until that first potential Republican presidential candidate throws his or her hat into ring," he said of his fellow fundraisers. "I'm pleased that Jeb has seized the initiative by being the first one to do so. The whole process of recruiting your heavy finance committee, that all now will come into play very quickly."
Rubio and other prospective candidates reacted coolly to the news that Bush had made his move. "Marco has a lot of respect for Governor Bush, and believes he would be a formidable candidate," Rubio spokesman Alex Conant said in a statement. "However, Marco's decision on whether to run for president or re-election will be based on where he can best achieve his agenda to restore the American dream–not on who else might be running." Wisconsin Governor Scott Walker said Bush's Facebook posting "doesn't affect me one way or another," according to the Associated Press. And Kentucky Senator Rand Paul, who is already actively exploring a presidential bid, quipped: "The more the merrier."
In addition to Republican rivals, Bush must have also been eyeing the beyond-front-runner status Hillary Clinton has solidified on the Democratic side, even though she has been less definitive about 2016 than Bush. Republican donors have worried in recent weeks that she could be left largely unchecked if their candidates must first battle through a crowded and lengthy primary process.
Among the prospective 2016 Republicans, Bush is believed to have the most robust fundraising network, built over the course of decades of public life by himself, his brother and father. A Republican strategist in Iowa who declined to be named because he may wind up working for one of the candidates called the Bush decision a shrewd move that will help the family line up their loyalists early in the process.
Fleisher dismissed the idea that many candidates will forego the race because of Bush's probable entry. "This field won't clear," he said. "George Bush had to beat the ones who stayed, too."
Until this past weekend, Bush's intentions were not very clear. While other prospective candidates were building lists of donors and volunteers and visiting early nomination states like Iowa and New Hampshire, Bush had kept a low profile. He last visited Iowa in October 2012, although he did host 2014 fundraisers in Florida that benefited Iowa Governor Terry Branstad and Joni Ernst, the state's new senator-elect. In an interview broadcast over the weekend on Miami television, Bush said he planned to release an e-book on policy and all his emails from his years as governor, which number about 250,000. Those announcements further fueled speculation that he was poised to announce something about a presidential bid. 
In the 2000 campaign, George W. Bush also made his likely intentions known early in the election cycle. By January 1999, he was already laying the groundwork for a national campaign. The next month, he hosted a delegation of Iowa legislators in Austin, Texas, just one of a series of meetings aimed at creating a sense that people were drafting him into the race. 
Fleisher said his former boss did an especially good job of taking the most productive fundraisers off the table for other candidates early in the process, though that's harder to do in the era of super-PACs.
"He locked up all the big money people," he said. "With super-PACs, you can fail to get any of the major donors, but if you have one big one you can still fight."
—Annie Linskey and Lisa Lerer contributed to this report.
Before it's here, it's on the Bloomberg Terminal.
LEARN MORE