C-SPAN Surprise: Political Operative Brothers Get Scolding from Mother
In the middle of an ongoing political argument, Joy Woodhouse, the mother of Dallas and Brad Woodhouse, called in to scold her boys.
by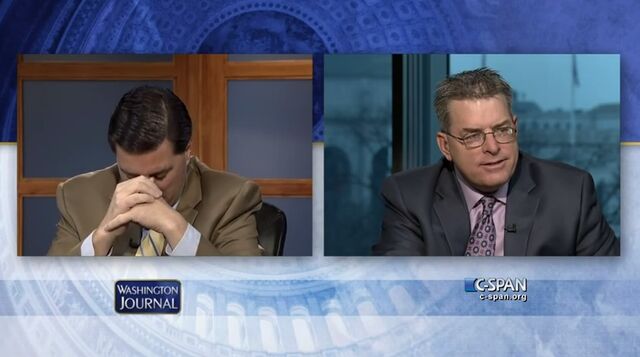 "Oh God, it's mom." During a C-SPAN segment Tuesday featuring Dallas and Brad Woodhouse, brothers who work against one another as political operatives, the partisan acrimony was put on hold when their mother, Joy Woodhouse, surprised them both by calling in to comment. 
The subject of the 2013 documentary "Woodhouse Divided," the brothers are no stranger to public scrutiny. Yet both seemed unnerved by being called out on live television by the woman who had raised them. 
"Let's go to Joy in Raleigh, North Carolina," host Steve Scully said when introducing the unplanned call from Mrs. Woodhouse. 
"Hey, somebody from down south!" exclaimed Dallas, who has a leadership role at Carolina Rising, a conservative 501 c-4. 
"Well, you're right, I'm from down south," Joy replied. 
Upon recognizing her voice, Dallas' head sank. "Oh God, it's mom." 
"And I'm your mother," Joy continued. "And I disagree that all families are like ours. I don't know many families that are fighting at Thanksgiving."
"Is this really your mother?" Scully asked.
"Yes," said Brad, who helps run the Democratic super PAC American Bridge. 
"I was very glad that this Thanksgiving was a year that you two were supposed to go to your in-laws," Joy continued. "And I'm hoping you'll have some of this out of your system when you come here for Christmas. I would really like a peaceful Christmas."
Scully asked Joy what it had been like raising the two boys. "Well, it hadn't been easy," she replied. 
The encounter ended on a cordial note, and the two brothers, despite arguing passionately for their political beliefs, maintain a close relationship. Here's a trailer for "Woodhouse Divided."
Before it's here, it's on the Bloomberg Terminal.
LEARN MORE