Bill Clinton Weighs In on Police Shooting Cases
The former president said some aspects of race relations are improving, but too much fear remains.
by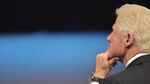 Former President Bill Clinton said in an interview posted Monday that Eric Garner "didn't deserve to die" when New York City police confronted him on a sidewalk in July, and that the police shooting in Ferguson, Mo., in August illustrates community-police divisions.
"There are more opportunities for people, without regard to race, to be accepted into every business, profession, avenue of American life, than ever before," he said in an interview with Fusion. "But I believe that we still have not solved the problem[s] that lead us to act out of fear sometimes, of preconceived notions of people of another race who also may not be of our socioeconomic group, may not share our values or lifestyle."
His wife, former Secretary of State Hillary Clinton, is weighing a 2016 presidential bid and recently gave her own view of the New York and Missouri cases after grand juries declined to indict the police officers in both cases.
"When something like that [Garner's death] happens or when Ferguson happens, even if the grand jury was right, that the young man was super aggressive and all that, he still was chased down unarmed and shot," Bill Clinton said. "It may not be a crime, but it shows you the divide that exists between the community and the police. ... When people like this get killed, the people in their neighborhoods, they feel almost that they're disposable." 
Before it's here, it's on the Bloomberg Terminal.
LEARN MORE