Want a Tax Break from the Senate? You'll Probably Have to Ask A Man
As committee assignments are doled out, women have little to show on two powerful panels that oversee finance and banking.
by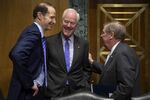 Money is power, and in the U.S. Senate, both still belong to men.
Republicans and Democrats have filled out their Senate committee rosters for next year and almost none of the coveted slots on the Finance and Banking panels went to women. Neither committee has ever been led by a woman and that won't change next year, particularly since no Republican women are on them. 
The Finance Committee, responsible for taxes, trade and health care, will have just two women–Democrats Debbie Stabenow of Michigan and Maria Cantwell of Washington–among its 26 members. The Banking Committee has a slightly higher percentage, 2 of 22, although its female membership went down one with the loss of North Carolina's Kay Hagan. The panel's remaining female members also will be counted from the Democratic minority ranks: Massachusetts' Elizabeth Warren and North Dakota's Heidi Heitkamp.
The gender breakdown is an artifact of the seniority system that reserves prime spots for veteran members (mostly men) and the decision by some of the most senior women, Democrats Barbara Mikulski, Dianne Feinstein and Patty Murray and Republican Susan Collins, to stay on the Appropriations Committee.
The Senate next year will have 20 women, as it does today, although the partisan split has changed slightly–to 14 Democrats from 16 in the current Congress--after Republicans defeated two female candidates in the midterms and saw two of their own elected. Incoming West Virginia Senator Shelley Moore Capito will take seats on the Energy and Appropriations committees, while Iowa's Joni Ernst secured a spot on the Agriculture Committee.
So, if not on the power committees, where are the women senators over-represented? On the Small Business and Entrepreneurship Committee, which has a narrow jurisdiction, little clout and 19 members, seven of whom are women, or 37 percent.
Before it's here, it's on the Bloomberg Terminal.
LEARN MORE