Senate to Vote on Surgeon General Pick Opposed for Gun Comments
Kathleen Hunter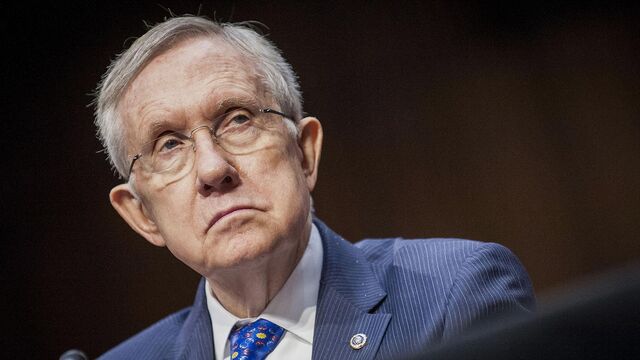 A Senate debate on the U.S. surgeon general nominee is highlighting divisions in Congress on gun regulation as Democrats seek to confirm about a dozen of President Barack Obama's appointees before handing control to Republicans.
Majority Leader Harry Reid said today that he'll keep the Senate in session for as long as it takes to confirm surgeon general candidate Vivek Murthy and about two dozen other nominees. Reid got the time to set up the votes during an unusual Saturday marathon session caused by Republican Senator Ted Cruz's parliamentary tactics that delayed passage of a $1.1 trillion spending bill.
"We're going to have to be here until we finish our work, whether that's Tuesday, Wednesday, Thursday, Friday or Saturday," said Reid, a Nevada Democrat. He will turn over the majority leader's position in January to Kentucky Republican Mitch McConnell.
Republicans are opposing Obama's choice for surgeon general, saying Murthy isn't qualified for the post and questioning his political involvement. Cruz of Texas has referred to Murthy as "an anti-gun activist," and other Republicans have made similar claims.
Public Health
Murthy, an internal medicine physician and Harvard Medical School instructor, is the co-founder and president of Doctors for America, a group that advocates in favor of the Affordable Care Act. The group contends that gun violence is "a public health problem." Votes on Murthy's nomination are scheduled for tonight.
Democratic Senator Joe Manchin of West Virginia said in a statement today he will vote against Murthy's confirmation.
"I don't believe it's appropriate for America's number one doctor to participate in political activism," Manchin said. "I don't question his medical qualifications; I just question whether the public will believe that he can separate his political beliefs from his public health views."
Manchin co-sponsored a measure, rejected by the Senate in April 2013, that would have expanded background checks for gun purchases.
Senate Democrats, who control the chamber 55-45, before adjourning for the year also plan votes on bills to revive expired tax breaks and extend terrorism-risk insurance. Republicans will control 54 seats starting in January.
Antony Blinken
Other nominees Reid set up for votes this week include Antony Blinken to be deputy secretary of State, Frank Rose to be an assistant secretary of State, John Cruden to be an assistant attorney general, and a dozen nominees to federal judgeships. The judicial posts are lifetime appointments, and Republicans had wanted to delay confirmation until next session.
Senator Richard Durbin of Illinois, the chamber's second-ranking Democrat, predicted Murthy would win confirmation.
"We think it will be close but we think he's going to make it," Durbin told reporters.
Under a rule change adopted late last year, a simple majority of 51 votes, rather than 60, is required to confirm almost all nominees.
In a speech on the Senate floor, Durbin defended Murthy's credentials and said it should be obvious that gun violence is a public health problem.
Newtown Massacre
The debate in Congress over gun regulation was reignited by the December 2012 shooting deaths of 20 children and six employees at Sandy Hook Elementary School in Newtown, Connecticut. Obama proposed a gun-safety agenda weeks later, including a ban on assault weapons and size limits on ammunition magazines.
In April 2013, Congress defeated the background-check measure amid opposition by the National Rifle Association, the nation's largest gun lobby, which claims 4 million members.
"Go to an emergency room on a Friday or Saturday night, and you tell me that gun violence isn't a public health issue," Durbin said. "Gun violence is a public health issue. No apology necessary."
Before it's here, it's on the Bloomberg Terminal.
LEARN MORE