Second Top O'Malley Aide Finds Work Elsewhere
Colm O'Comartun to start a new bipartisan consulting firm.
Annie Linskey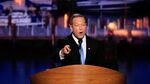 Another top staffer to Martin O'Malley is leaving for a new job, raising questions about how many members of the Maryland governor's  inner circle will work in his potential 2016 presidential campaign.
Colm O'Comartun, who has been the executive director for the Democratic Governors Association since O'Malley took the helm of the group in December 2010,  is launching a new bipartisan consulting operation focused on state governments with Phil Cox, the chair of the Republican Governors Association, according to a report by Politico's James Hohmann. Two weeks ago another key staffer, Stephen Neuman, announced that he is leaving his post as O'Malley's director of public affairs to become incoming Rhode Island Governor Gina Raimondo's chief of staff.

O'Comartun is one of O'Malley's most trusted aides and has worked in key positions for him since his days as Baltimore's mayor. The two were inseparable during O'Malley's first term as governor–they were together at events, in the gubernatorial SUV and even at the gym.  Neuman was a newer addition but played an important role in sharpening the governor's public speaking and helped pass bills to end the death penalty and tighten gun restrictions.

O'Comartun told Politico that he would still play a role in a presidential campaign if O'Malley decides to seek the Democratic nomination.  The governor is telling longtime donors that he does plan to run for president when he leaves Annapolis in January, according to one who has recently heard the pitch. And O'Malley does have new blood in the operation. He recently hired Bill Hyers, who was campaign manager for New York Mayor Bill de Blasio, as a senior adviser.
Before it's here, it's on the Bloomberg Terminal.
LEARN MORE