The Rise of 'Undernews' You Should Never, Ever Use
When Republican candidates embrace less-than-credible news stories.
by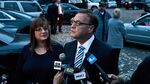 Charles C. Johnson's media tour continued this morning with a profile by New York Times media reporter David Carr, splashed on the front of the newspaper's business section. (That's the norm for Carr's column.) The blogger/researcher's response to the profile was standard; first, gloating about the publicity he was getting, then offering $50 for Carr's mugshot.
(Carr wrote about his arrests and his past drug use in a memoir, The Way of the Gun. For $12.14, anyone can own a paperback copy; for much less, anyone can see that the mugshot is on the cover of the book. When Carr pointed out the absurdity of this, Johnson dinged him for not recognizing a "recruiting tool" when he saw one.)
Johnson's defenders ask why a profile of a dox-happy media figure is a better angle on Rolling Stone's botched campus rape story. I'd just add that conservative media distrust, sowed by debacles like that, explains why there's such a market for doxxing or sensationalist/fake news.
Case in point: Carr, unlike some of Johnson's more hit-and-run profile-writers, spends some time on his subject's fumbles. "He attacked Senator Cory Booker," writes Carr, "saying the lawmaker did not live in Newark when he was the city's mayor; BuzzFeed wrote that Mr. Johnson not only was wrong, but had worked for a political action committee that opposed Mr. Booker."
That's the story, but more interesting than what Johnson published was who believed it. On Oct. 14, 2013,  Johnson published a Daily Caller story that alleged, based on the testimony of "neighbors" and ganders through some windows, that Booker did not live in Newark.  "The mayor is believed to live in New York," wrote Johnson, matter-of-factly. 
Within hours, that story was endorsed by Booker's opponent in the 2013 special U.S. Senate race, Steve Lonegan. The Republican candidate, formerly the New Jersey leader of Americans for Prosperity, staged a press conference outside the Hawthorne Avenue home Johnson had found empty. "Who is Cory Booker?" Lonegan asked. "Can you trust him? Where is he from? Where does he live? I propose that he doesn't even live in Newark." Buzzfeed's Ruby Cramer and the Newark Star-Ledger's Bill Wichert quickly found that, yes, some neighborhood activists who despised Booker were claiming he never lived there, but there were documents and other testimonies contradicting this. He'd lived in that house, and previously announced that he was moving to another home in Newark.
But Lonegan didn't drop the bone. "I lived in the same house for 25 years," he told the New York Post. "It's no mystery." Later, after Booker responded, Lonegan gave a strange interview to a TV station, PIX11, in which he first claimed that he didn't say Booker had fled Newark ("This came out through other news sources") then lectured a reporter on why he'd missed the story.
"You should do your homework, sir," said Lonegan. "You should read the reports that came from other news sources. The evidence I have is what was reported in the press, yesterday, that he hasn't lived in that house for seven years."
The next day, Booker defeated Lonegan by 11 points. Hours later, Lonegan announced that he'd be running for an open House seat across the state–meaning, with a whiff of irony, that he needed to move to a new home. He lost that race, but the Hawthornegate story (not a term anyone used, but you get the joke) lived on as an incredible case study in how a candidate can catapult flimsy information into the media, if he doesn't mind the backlash. Within a year, Johnson's stories and allegations were being repeated by Mississippi U.S. Senate candidate Chris McDaniel and his allies in their close, failed attempt to win a primary. 
The press has less control than ever on what arises from the "undernews," Mickey Kaus's name for "stories bubbling up from the blogs and the tabs that don't meet MSM standards." Every time the press gets a big story wrong –as appears to be happening with Rolling Stone–the control slips a little more, and a little more.
Before it's here, it's on the Bloomberg Terminal.
LEARN MORE