Jeb Bush Offers Graduates Advice a Candidate Could Use
Speaking in the state that hosts the first presidential primary in the South, Bush didn't hint at his own plans.
by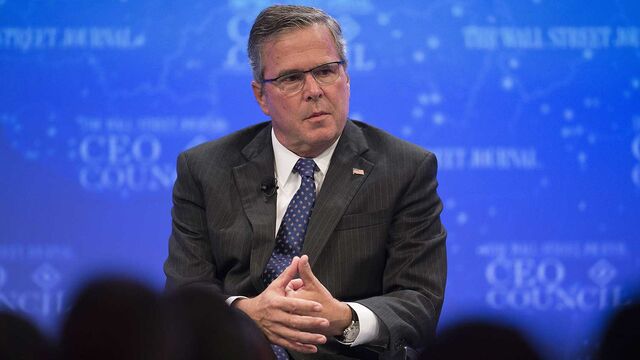 Jeb Bush's advice Monday to graduates at the University of South Carolina's winter commencement was direct and succinct. It was also some that a prospective presidential candidate might want to follow.
"Out in the real world, every day is an exam," he said, in a reference that could be applied to the constant scrutiny of a national campaign. "Every day you are getting graded."
Speaking in the state that hosts the first presidential primary in the South, the former Florida Republican governor made no mention of his own presidential deliberations for the 2016 race. His three points of wisdom could be applied to any situation in life, whether it was running a classroom, a statehouse or a lemonade stand, he said.
"Don't let anyone else ever tell you how big to dream," he said, nodding to the pressure that young people can feel to follow the model set by the parents. After citing his own decision to follow in the family's business of politics, he said: "You don't have to follow the pattern. You can do what you want to do. In fact, life is a lot better if you find your own reasons to do your own things. There is no motivation as powerful as wanting to do something for yourself and expecting more of yourself." Experimenting and failing is okay, he said, and some of the most interesting jobs haven't been around that long. "That anxiety can be positive. Don't be afraid to shake things up."
Finally, Bush called on the graduates to always remember to have fun, holding out his 90-year-old father, former President George H.W. Bush, as his "favorite person in the world" of all time.
"He's a guy who lived a full, active life," he said. "He was shot out of the sky in World War II, he built a business, he served a generation of time in many different positions in public service and he's had some incredibly painful losses in his life. But he's never stopped having fun, whether it's funny and colorful socks for some strange reason, or jumping out of perfectly good airplanes, even at the age of 90, or judging cheerleader competitions."
When adversity arises in life, how one reacts is what's most important, he advised. "Life isn't always about the happy moments. Everyone faces adversity eventually," Bush said. "Those things we can't control. We can control how we react."
Bush said he'd asked his mother for some tips before the speech and she told him to "speak about 10 minutes and then sit down and shut up." It was advice he followed; his address was exactly 10 minutes. The former governor's commencement address seems part of a family tradition, as both his father and brother, former President George W. Bush, spoke at graduation ceremonies and received honorary degrees from the university. It also comes at a time of heightened scrutiny of his every move in anticipation of a 2016 announcement, one way or the other.
In an interview broadcast over the weekend, Bush said he planned to release an e-book on policy and all his e-mails, roughly 250,000, from his years as Florida's governor. Bush told the Miami television station that he would make his decision about a run "in short order," meaning late this year or early next year. In preparing his e-mails and writing the book, Bush said it reminded him that "if you run with big ideas and then you're true to those ideas . . . you can move the needle." Bush also used the interview to push back against a Bloomberg Businessweek story last week that raised questions about whether his finance experience would prove to be a political liability, as it was the case for 2012 Republican nominee Mitt Romney. "I'm not ashamed," he said. "Taking risk and creating jobs is what we ought to have more of." If he runs, Bush said he would divest himself from his business interests.
Before it's here, it's on the Bloomberg Terminal.
LEARN MORE