Senate's Spending Votes Seen as Litmus Tests for 2016 Candidates
Kathleen Hunter and Jonathan Allen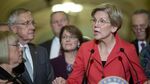 Two late-night votes in the Senate this weekend provide fodder for party activists already drawing up plans to reward loyalists and punish adversaries as the 2016 U.S. election cycle starts.
The litmus-test votes: passage of a $1.1 trillion spending bill that Democrats criticized for being too kind to big banks and campaign donors, and Texas Republican Senator Ted Cruz's failed constitutional objection to President Barack Obama's immigration policy.
Pressure from the bases of both parties was strong enough that 40 senators -- 22 Democrats and 18 Republicans -- voted against the bill even though it included provisions to pay for America's national defense, cancer research and food safety. Those could spawn any number of 30-second attack ads in a general election.
But senators are more worried now about primaries and their more ideology-driven voters.
Of the 23 Republican senators up for re-election in 2016, 16 voted for Cruz's parliamentary objection, known as a point of order, against what he called Obama's "amnesty." Two of them, Rand Paul and Marco Rubio, are -- like Cruz -- considering presidential bids.
"They know what voters want to hear," Cruz aide Amanda Carpenter said of Republicans who voted with her boss. "God forbid we do what people want us to do."
Tweeted Warnings
Some conservative activists issued warnings to senators in real time as they cast their ballots. For instance, the Senate Conservatives Fund, a leading player in Republican primaries, fired off a Tweet Saturday night criticizing Senator Kelly Ayotte, a New Hampshire Republican who is up for re-election in 2016, for opposing Cruz.
The Texas Republican's point of order questioned the constitutionality of the bill because it didn't defund Obama's recent executive action protecting up to 5 million undocumented residents from possible deportation.
It's a sore point for a Republican Party that has criticized Obama but risks alienating Hispanic voters by taking a hard line on immigration. While some Republicans voiced frustration with Cruz for keeping the Senate in session over the weekend, it was clear that some didn't want to cast a vote on an issue that splits their party.
Tea Party
That vote, which failed 22-74, is one data point in a set that will be built out in the next Congress, said Republican political strategists. Ayotte ran as a Tea Party favorite in 2010 before watching Republican Scott Brown fail to use immigration as a cudgel against New Hampshire Democratic Senator Jeanne Shaheen this year. Now, as they weigh whether to support Ayotte or a primary challenger, party activists will be watching her next moves on immigration.
Dan Holler, a spokesman for Heritage Action, another outside group that influences Republican primaries, said of possible retribution for Ayotte and other Republicans who didn't vote with Cruz: "A lot depends on what they do in the coming months."
While immigration roused Republican activists to back Cruz and oppose the spending bill, their Democratic counterparts opposed it for a different reason -- that the measure was too kind to big banks and campaign donors. The Democratic opposition was led by Senator Elizabeth Warren of Massachusetts, who has become the darling of the party's anti-Wall Street base.
Liberal Opposition
CREDO Action and the Progressive Change Campaign Committee, which support Democrats, urged their members to pressure lawmakers to vote against the spending bill. PCCC took credit on Dec. 11 when the House was forced to delay action on the bill so that Republican and Democratic leaders could round up votes.
The strength of the Democratic base was evident in the House vote on the bill. Fifty-seven Democrats voted for it and 139 voted against it.
Today the PCCC said in a statement, "The way for Democrats to inspire the public is to give Americans the debate about big ideas that we deserve -- and that means following Elizabeth Warren's lead."
In the Senate, where a majority of Democrats were needed to ensure passage of the bill, 32 members of the Democratic caucus, including Maine Independent Angus King, voted for it. Vermont Senator Bernard Sanders, the other independent who caucuses with Democrats, joined 21 Democrats in voting against it.
Political Divide
For a handful of senators, the bill offered a rare opportunity to reach out to voters on the other side of the political divide and to donors in their own party.
Senator Claire McCaskill, for example, voted against the bill. The Missouri Democrat, who is a possible gubernatorial candidate in 2016, has always positioned herself as a careful steward of taxpayer money, which appeals to some independents and Republicans in the "Show Me" State.
At the same time, she put out a press release explaining her vote in terms that will sit well with Democratic donors.
"This bill includes important provisions for causes I support, like a boost to the E/A-18 Growler production line, critical for airborne electronic attack, and certainty for our military and veterans," she said in the statement. "But now is not the time to further open the floodgates of big money in our elections with a secretive, last-minute provision that got little or no public debate."
Wall Street
McCaskill also said she was concerned that a provision to ease curbs on derivatives trading "could once again find taxpayers bailing out Wall Street's bad bets."
Missouri's other senator, Republican Roy Blunt, had little choice but to vote for the spending bill as a new member of the Senate Appropriations Committee, which wrote it. He was one of 10 Republicans who voted with Cruz on the point of order and then voted for the overall spending bill once the Texan's effort had fallen short.
Of the 10 Democrats who are up for re-election in 2016, three opposed the spending measure: Richard Blumenthal of Connecticut, Barbara Boxer of California and Ron Wyden of Oregon. All of them come from heavily Democratic states where primary challenges might be harder to fend off than competition from Republicans.
Three others who voted against the bill -- Warren, New York's Kirsten Gillibrand and Sanders -- are often mentioned as possible presidential contenders by Democratic activists and news media.
The discomfort with what is usually considered a must-pass spending bill could be seen in the narrow margins in the House and Senate that kept the government operating: 219-206 in the House and 56-40 in the Senate.
As for the Cruz point of order, the official Senate record of the outcome matches the sentiments of many Republican lawmakers, aides and strategists: "Not well taken."
(An earlier version of the story was corrected to show that Senator Maria Cantwell isn't up for re-election in 2016.)
Before it's here, it's on the Bloomberg Terminal.
LEARN MORE