On Torture Report, Cheney Attacks While Bush Goes Quiet
The former president and vice president have criticized the Senate Select Committee on Intelligence's report on CIA interrogation methods. How they're doing it couldn't be more different.
by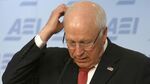 No two men have more at stake in ongoing debate over the use of torture by the CIA than former President George W. Bush and his vice president, Dick Cheney, the officials who authorized and have since championed the use of what they have termed "enhanced interrogation techniques." 
In the executive summary of the Senate Select Committee's report on the CIA's use of torture, Cheney's name appears 44 times, while Bush's turns up on 67 occasions. Both men have been unwavering advocates of the techniques authorized after the attacks of Sept. 11, 2001,  and each has, for years, praised the intelligence agency for protecting the nation from the mass casualties of another terrorist attack. But the tone and vigor in which they have opposed the most recent examination of interrogation practices during their tenure could not be starker, nor better summarized than it was on the Sunday morning shows this weekend, as Cheney intensified his counter assault in the message war against the committee's findings, while Bush remained out of the public eye. 
"Torture to me, Chuck, is an American citizen on his cell phone making the last call to his four young daughters shortly before he burns to death in the upper levels of the trade center in New York City on 9/11," Cheney told "Meet the Press" host Chuck Todd on Sunday. "There's this notion that there's moral equivalence between what the terrorists did and what we do, and that's absolutely not true."
Cheney has been more aggressive on the airwaves than anyone, offering full-throated rebuttals to the committee's claims and attacking the report for being overtly partisan. After calling the report "full of crap" on Fox News last week, the former vice president used his "Meet the Press" interview to again the interrogation program and dispute the notion that the United States tortured detainees during his tenure.  
Bush's only recent comments on the CIA detention program, by contrast, came before the Senate report was released. 
"We're fortunate to have men and women who work hard at the CIA serving on our behalf," Bush told CNN host Candy Crowley. "These are patriots and whatever the report says, if it diminishes their contributions to our country, it is way off base."
Before the interview moved on to other topics like his new book, family and portraiture hobby, Bush added, "These are good people, really good people and we're lucky as a nation to have them."
It's hardly the first time that Cheney has been more vocal than the former commander-in-chief. Unlike Bush, who disappeared from the spotlight for some years after he left the White House, Cheney has frequently criticized President Obama and defended the Bush administration on a host of international and domestic issues.
In 2010, during an interview with ABC's "This Week," Cheney was asked why he has been so much more public than Bush in those early years after the 2008 election. 
"The reason I've been outspoken is because there were some things being said, especially after we left office, about prosecuting CIA personnel that had carried out our counterterrorism policy or disbarring lawyers in the Justice Department who had—had helped us put those policies together, and I was deeply offended by that, and I thought it was important that some senior person in the administration stand up and defend those people who'd done what we asked them to do."
That's not to say that Bush has avoided the subject entirely. In his 2010 book, Decision Points, for instance, Bush discussed his rationale for authorizing the interrogation program, and admitted that he knew it would "open ourselves up to criticism that America had compromised our moral values."
Of course, the former president may have more political considerations to take into account as his brother eyes a possible 2016 presidential bid, preventing him from getting in the middle of this controversial issue again even if he wanted to, especially as public polling shows Americans do not approve of most of the techniques the CIA used that were detailed in the report.
Dick Cheney, it appears, has little to lose.
"I have no problem as long as we achieve our objective, and our objective is to get the guys who did 9/11, and it is to avoid another attack against the United States," Cheney said on NBC Sunday when asked about innocent people that the United States detained and interrogated. 
Then he added, "I'd do it again in a minute." 
Before it's here, it's on the Bloomberg Terminal.
LEARN MORE