Senate Endgame to Pass Spending Bill Thwarted by Late-Night Spat
Kathleen Hunter and Erik Wasson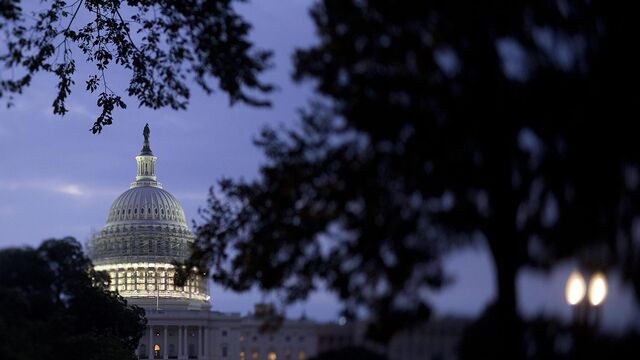 The Senate plowed forward toward passing a $1.1 trillion spending bill to keep the U.S. government open despite a late-night maneuver by two Republican senators that forced lawmakers into a Saturday session that left the precise timing in doubt.
Signals from Senate leadership today still pointed toward approval as late as 7 a.m. Monday. The legislative process remained in flux, however, as the Senate was to reconvene to hold as many as 40 procedural votes on nominations because the two parties could not reach consent on a more streamlined process.
Leading the charge against passing the bill, which would forestall a government shutdown, are senators who agree on almost nothing -- Republican Ted Cruz and Democrat Elizabeth Warren.
Their disputes over the bill have complicated the endgame for passing the spending measure, which is needed forestall a possible government shutdown next week. The House passed the bill Dec. 11.
Because of a procedural dispute last night, the Senate will resume its work today, holding votes on nominations. On Dec. 15, the Senate probably will vote on the funding measure, according to a Democratic aide who sought anonymity. A vote is set for 1 a.m. tomorrow to clear the way for final action.
Before adjourning for the year, the Senate also plans to vote on renewal of a group of expired tax breaks and terrorism risk insurance, as well as confirming several nominees to executive and judicial posts. The House has finished its work.
Banking Provision
Warren has been leading the charge in Congress against a banking provision in the bill that she and other Democrats see as a giveaway to Wall Street banks including Citigroup Inc., urging lawmakers to take it out.
"Washington already works really well for the billionaires and the big corporations and the lawyers and lobbyists," the Massachusetts Democrat said on the Senate floor last night. "But what about the families who lost their homes or their jobs or their retirement savings the last time Citi bet big on derivatives and lost?"
The banking language, insisted upon by Republicans, would ease rules enacted to protect taxpayers against bank losses after souring derivatives trades helped cause the 2008 financial crisis.
The dispute over the banking rule also is a preview of Republican plans to roll back other business regulations when they take control of both congressional chambers in 2015.
Warren's remarks were attacked by Senator Lindsey Graham of South Carolina, who compared her to his Republican colleagues who in 2013 who wanted to shut down the government over President Barack Obama's Affordable Care Act.
"My advice to people on her side is don't follow her lead," Graham said. "She's the problem."
Immigration Dispute
Also opposing the spending bill are two Republican senators, Cruz and Mike Lee of Utah, who have said they will use all possible procedural tactics to add language to the spending measure blocking implementation of Obama's immigration order. The president said Nov. 20 that he would temporarily halt deportations for about 5 million undocumented immigrants in the U.S., a move Republicans, including Cruz, describe as amnesty.
Late last night, Cruz declined to give his consent to a plan to vote on the spending bill early next week. Since unanimous consent of senators is needed for most procedures, his refusal forced the Senate to remain in session through the weekend.
Cruz's move exposed divisions among Republicans. Republican leader Mitch McConnell, a Kentucky Republican, had already left the Senate, apparently believing an agreement had been reached, before Cruz took to the Senate floor to voice his opposition.
Cruz Opposition
It wasn't the first time Cruz has interrupted the parliamentary process to make clear his opposition to legislation. Last year, Cruz led the drive to defund Obamacare that resulted in a 16-day partial government shutdown.
"Senator Cruz continues to pursue a vote on defunding the president's amnesty," his spokeswoman, Catherine Frazier, said.
The House passed the spending bill 219-206 on Dec. 11, just hours before government funding was set to lapse, after a day of discord over the measure. Lawmakers also enacted a short-term bill to keep the government operating until a new spending plan is passed.
"This by definition was a compromise bill," President Barack Obama said yesterday. "This is what's produced when we have the divided government that the American people voted for."
The banking provision, which prompted vehement opposition from Minority Leader Nancy Pelosi and other House Democrats and held up a vote, would let JPMorgan Chase & Co., Citigroup and other lenders keep swaps trading in units with federal backstops.
Warren, Vitter
Warren of Massachusetts and Louisiana Republican David Vitter introduced an amendment to strip the banking provision from the spending bill.
Democratic opposition to the swaps provision, and unease among some Republicans that the bill didn't block Obama's immigration order, had also threatened to scuttle the measure in the House.
The spending measure would fund most of the government through September 2015.
Pelosi, in a message to fellow Democrats, said Republicans' inability to pass the bill on their own "increases our leverage to get two offensive provisions of the bill removed: the bank bailout and big money for campaigns provision." Still, those provisions remained in the bill, H.R. 83, which passed with the support of 162 Republicans and 57 Democrats and was opposed by 67 Republicans and 139 Democrats.
Pelosi, Obama
White House spokesman Josh Earnest said yesterday that even with the rare policy disagreement between Pelosi and Obama, the two have the same priorities.
"It's hard to think of anybody who the president has worked with more closely or more successfully than leader Pelosi," Earnest told reporters. He also said, "People who underestimate Nancy Pelosi do so at great risk."
Senator John McCain of Arizona, the Republican nominee when Obama was elected president in 2008, said the disagreement between Obama and Pelosi demonstrated the kind of intra-party divisions that are typical after a major electoral loss.
"It sure is fun to watch from the other side," McCain said.
The campaign provision would permit a tenfold increase in donations that individuals can make to national political parties each year, to $324,000 from $32,400.
It would let donors give $97,200 a year to each of three party committees for conventions, to pay for building funds and to finance the expenses for recounts and legal challenges to election results.
Complex Deal
A complex deal on the spending bill was announced Dec. 9 after Senate Democratic negotiators accepted the banking rule changes and Republican demands on other policy provisions.
Though Democrats weren't pleased about some of the provisions, they said they beat back dozens of others that Republicans had sought, including revisions focused on environmental and labor protections.
The Department of Homeland Security, responsible for immigration policy, would be financed only through Feb. 27. Republicans want to use the agency's spending bill to block Obama from easing deportation rules for millions of undocumented immigrants.
The funding measure would allow exceptions to clean-water laws for agricultural refuse, and block the District of Columbia from spending money to legalize marijuana following a voter-approved measure allowing possession of as much as 2 ounces for personal use.
The plan would roll back safety rules on rest for truck drivers, ignoring the pleas of consumer activists and Transportation Secretary Anthony Foxx.
The provision would temporarily suspend rules while a study is conducted about the number of trucks driven on congested roads. Under the change, truckers would be able to work as many as 82 hours a week.
The plan includes a proposal sought by the National Rifle Association that lets gun manufacturers use lead to produce ammunition, and a labor provision exempting claim adjusters from overtime requirements during major disasters.
The measure also would seek to shore up the Pension Benefit Guaranty Corp. by allowing some underfunded multiemployer pension plans to reduce benefits. The provision reflects an agreement by House Education and the Workforce Committee Chairman John Kline, a Minnesota Republican, and senior Democrat George Miller, a California Democrat.
Before it's here, it's on the Bloomberg Terminal.
LEARN MORE