Rick Perry Says Running for President Is No IQ Test
The Texas governor is asked if he is smart enough to be president.
by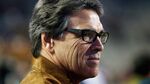 Does Rick Perry have the smarts to be president? He says that he does but that it's not the most important question to ask ahead of 2016.
"Running for the presidency's not an IQ test," the Texas Republican governor said in an MSNBC interview published Thursday. "It is a test of an individual's resolve. It's a test of an individual's philosophy. It's a test of an individual's life experiences. And I think Americans are really ready for a leader that will give them a great hope about the future."
Perry has said he will decide next year whether or not to run for president again. Questions about his intellect largely stem from his first run, during the 2012 cycle, when he forgot the third federal agency he planned to dismantle and famously said on a primary debate stage, "Oops." 
Even before that, his allies confronted questions about Perry's brains and policy chops. "If he should know about John Locke, he'll know about John Locke," lobbyist Bill Miller told Politico in a 2011 story headlined "Is Rick Perry dumb?" "If it's not on his schedule, it's irrelevant to him."
It would be different the next time around, Perry told MSNBC.
"I think over the course of the last two years, people have—you know, they realize that what they saw in 2011 is certainly not the person they're looking at in 2013, 2014, 2015," he said.
Before it's here, it's on the Bloomberg Terminal.
LEARN MORE