One Last Indignity for Wendy Davis
Texas Monthly dubs her "Bum Steer of the Year."
by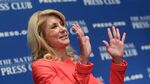 We haven't heard much from Texas Democrat Wendy Davis since she lost the November gubernatorial election by 20 percentage points. But she hasn't quite left the public stage. On Thursday, Texas Monthly awarded Davis its annual "Bum Steer of the Year" cover. The magazine explained why it skipped indicted Governor Rick Perry and gaffe-prone Representative Louie Gohmert in favor of Davis, who jumped into the race against Republican Greg Abbott with the sky-high hopes of her fellow Democrats:
"In the end, she lost by more percentage points than Tony Sanchez did in 2002. And she won 270,499 fewer votes than Bill White did in 2010 in his doomed effort against Perry. It's not that the Democrats underperformed. It's that the party that hasn't won a statewide race since 1994 actually dug itself an even deeper hole! 

"For Davis, her campaign started poorly—this magazine compared her rollout to the debut of the Bag o' Glass from Mainway Toys—and things seemed to only go downhill from there. Infighting! Staff shake-ups! Tension with the press! Missteps over her own biography! And to add insult to injury, after the dust had settled, the state Senate seat she gave up to run against Abbott was claimed by a Republican. "
She joins past, um, honorees including Perry, for his bumbling 2011 performance in the Republican presidential primary (more on his rebound efforts here); disgraced cyclist Lance Armstrong; and "Dick Cheney, for shooting a man."
Before it's here, it's on the Bloomberg Terminal.
LEARN MORE