Attention Rick Perry: Texas Ranks Fifth in Income Inequality
The governor seemed to indicate he was not worried about the wealth gap in his state.
by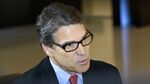 Texas Governor Rick Perry, who has spent the last several months trying to convince America that he's not the same gaffe-prone candidate he was in the last presidential election, recently told the Washington Post that income inequality is not a problem in Texas. 
"Biblically, the poor are always going to be with us in some form or fashion," he said. He cited statistics showing that since he took office in 2000, wages have increased among all four income quartiles. […]

Perry acknowledged that the richest Texans have experienced the greatest amount of earnings growth, but dismissed the notion that income inequality is a problem in the state, saying, "We don't grapple with that here."
For the record, Texas ranks fifth among states in income inequality according to one report, the U.S. Census Bureau has noted a sharp rise in income inequality in Texas and 14 other states, and a Standard & Poor report indicates that income inequality is reducing the state's tax revenues.
The Lone Star state has also been on the higher end of the wealth-gap spectrum for years, as reports from the Census Bureau show. 
But, as Perry himself said during a 2011 New York Times interview, he doesn't care if the wealthy benefit from tax policy. During the interview he was asked about his plan to cut the federal tax rate for the top 20 percent, and end dividends and capital gains taxes. When pressed on the fact that his plan would mean massive savings for the well-off, Perry replied, "But I don't care about that. What I care about is them having the dollars to invest in their companies." About two weeks later, he couldn't name the third agency he wanted to cut from federal government, and cemented a reputation as a man not ready for the national spotlight. 
Before it's here, it's on the Bloomberg Terminal.
LEARN MORE