Tom Harkin and the Alternate History of Health Care Reform
On the way out, the Iowa Democrat wonders why the party didn't go bigger.
by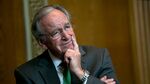 It's been a week since Alex Bolton's interview with departing Iowa Senator Tom Harkin, but only today did some lefty economists start passing around this exchange on health care. Harkin, subjected to the twin indignities of defending the ACA against a new court challenge and warming up his Senate seat for a Republican, insisted that Democrats botched the job by failing to pass a more progressive bill.
"We had the votes in '09. We had a huge majority in the House, we had 60 votes in the Senate," he said.

He believes Congress should have enacted "single-payer right from the get-go or at least put a public option would have simplified a lot."

"We had the votes to do that and we blew it," he said.
This is extremely edifying for progressives, who can play all sorts of fantasy versions of the Obama years in their heads. (What if he'd jailed the bankers? What if he'd done cap-and-trade before Obamacare? And so on.) It's also, with apologies to Harkin, a ludicrous theory that no one agrees with. Former Senate staffers, who were not keen to trash a very respected colleague on the record, cannot recall any time when a single-payer health care plan, or a public option, could command 60 votes.
Problem one–probably the most forgotten problem of the first Obama years–was that the Senate only had the 60-seat Democratic majority for four months. It's common to hear Washington pundits refer to the "filibuster-proof majority" that the president had "for two years." It's just not true, because the 2008 election installed a Senate with 56 Democrats, two Democratic-caucusing independents, 41 Republicans, and an un-called Senate race in Minnesota. In April 2009, Pennsylvania Senator Arlen Specter left the GOP, giving it 40 seats. But it was not until June 2009 that Minnesota's race was called for now-Senator Al Franken. That gave the Democrats almost two months of supermajority status, until the August 2009 death of Massachusetts Ted Kennedy. The 60 votes were restored by appointed Senator Paul Kirk–and, famously, reduced once more by the January 2010 victory of Senator Scott Brown.
Given that no Republicans ever supported single payer, and that none supported a public option, when Harkin's talking "60 votes" he's realistically talking about a few months at the end of 2009 when the Senate might have jammed through a bill. This is a long-running, useful argument with the senators–Montana's Max Baucus chief among them–who frittered away a year in hopes of winning a few Republican votes. But it's contradicted by everyone else who was there.
What might progressives have been able to achieve? Helpfully, Vermont Senator Bernie Sanders told them at the time.
In the post-Brown victory winter of 2010, Democrats eventually coalesced around a plan to pass the Senate's health care bill through the reconciliation process. That required only 51 votes; it meant getting a Democratic House to accept a bill that relied on private insurers but ended the "public option." (Even in the House, single-payer was a non-starter.)
Sanders asked why the new, bold plan didn't go further.
"I think we do have 50 votes in the Senate for a public option," he said on MSNBC, "and frankly I don't know why the president has not put it in, and I hope that we can inject it."
He had few takers. He didn't even have Tom Harkin. "If we have a bill sent to us from the House that does not have the public option here, if we were to add it here, it would sink the whole  bill," said Harkin on (still) MSNBC. The Baucus bill, sans public option, passed; Harkin and other progressives failed throughout 2010 to add a new public option.
Four years later, Harkin is leaving the Senate as conservatives grow confident they can poke holes through the bill that did pass, and destroy it. You see why he's frustrated, but not why he's right.
Before it's here, it's on the Bloomberg Terminal.
LEARN MORE