Scott Walker: 'Thank You, and Molotov'
Today's autocorrect gaffe-par-excellence.
by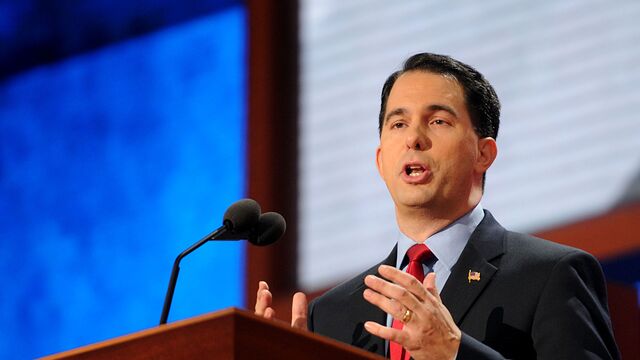 Season's greetings and salutations! Last night, the AP confirmed that Wisconsin Governor Scott Walker was meeting with Sheldon Adelson in Las Vegas, and reminded readers that Adelson had donated nearly $1 million to secure Walker's 2012 and 2014 election wins. The next morning, Madison Capital Times reporter Jessie Opoien pulled something wonderful from the archives. During the state's seemingly endless investigation of the "John Doe" scandal, it had acquired a letter from Walker telling a supporter that, yes, the governor would be happy to display a Menorah in honor of "The Eight Days of Chanukah" at a county courthouse.
The letter was signed:
Thank you again, and Molotov.

Sincerely,

Scott Walker
"Molotov," as Opoien points out, is most likely an autocorrected replacement for the more appropriate "Mazel Tov." Indeed, in the writing of this post, an embedded spell-checking program assumed that both "Mazel" and "Tov" were errors.
There is no reason to believe that Walker was caught short by a Hebrew phrase. He has done more burnishing of his Evangelical/Zionist credentials than any 2016-er save Ted Cruz. (He has not, like Cruz, egged on a crowd of Israel-skeptic Middle East Christians to heckle him.) In an interview about his foreign policy, with the Washington Examiner's Phil Klein, Walker quickly cited the White House's "cold shoulder" to Benjamin Netanyahu as a foreign policy problem. In last year's address to an Adelson/Republican Jewish Coalition meeting, he discussed the menorah—yes, the one mentioned in this letter—and told Jewish voters why he gave his son the Hebrew name "Matthew."
And so, place it low in the Gaffe Gallery. It wins many points for its soda-out-the-nostrils effect; it will not put the scare in the people who want Walker to run.
Before it's here, it's on the Bloomberg Terminal.
LEARN MORE