How the White House's Immigration Order Survived the 'Cromnibus'
House Republicans wonder why they couldn't defund "amnesty" in the spending compromise.
by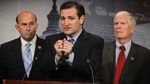 Representative Mo Brooks was not going to support the "Cromnibus." The Alabama Republican sounded amazed that so many of his colleagues would even dare.
"Without any remorse whatsoever, the House leadership has surrendered to President Obama on the illegal alien issue, and have supported and decided to fund amnesty," said Brooks, a member of the 2010 class from a safe red district, after leaving the Republican conference's weekly meeting on Wednesday. "Whatever they can do in the United States Senate to reverse the president's unconstitutional, illegal conduct, they should do. That's something that the United States House of Representatives is not even trying to do."
The "executive amnesty," once seen as so politically explosive that it had to be delayed past the election, has survived the appropriations process. This was not a surprise, necessarily. For weeks, Republican leaders have been promising to defund the program (if that's possible) in 2015, when a new Republican Senate is ensconced. The House GOP's hardliners would just have to wait, as Arizona Representative Matt Salmon said, until "the calvary arrives."
Not that he was happy about it. "The fix is in," he told reporters. "It's passed on the very last day that we're here."
There was more optimism just last week, when conservatives rallied with Texas Senator Ted Cruz and asked the leadership not to separate the immigration defunding component from the rest of the must-pass spending bill. But the Capitol Hill press has seen this play before. Cruz has broadcast no interest in gumming up a Senate vote over immigration; yesterday, on Bloomberg TV, unofficial House Republican soothsayer Representative Tom Cole of Oklahoma said flat-out that Cruz would not have the votes.
The Republican leadership had effectively boxed out conservative voices, as was clear when new Republican Study Committee chairman Bill Flores told Washington Post reporters that there was "a lot of good stuff" in the Cromnibus. Historically, the RSC had been a fount of opposition to schemes like this. Now, the opposition was limited to the expected critics like Iowa Representative Steve King, who left the weekly meeting and held court with reporters, talking about the need to "fight now rather than later" and imagining a role for himself rebutting Obama.
It was fascinating to hear that from King. One reason that "executive amnesty" had looked politically impossible was that Democrats were trying to win the open Senate seat in King's state and hold on in much redder states. The delay helped exactly zero candidates, and since the election, Latino pollsters have argued that it hurt defeated House Democrats Joe Garcia and Pete Gallego and defeated Colorado Senator Mark Udall.
Conventional wisdoms like that were worrying to the GOP's hardliners. "Are there going to be more people opposed to amnesty or more people supporting amnesty in February?" asked Brooks. "You may have more people who support illegal aliens, who support the Chamber of Commerce instead of struggling Americans."
Before it's here, it's on the Bloomberg Terminal.
LEARN MORE