Health Care by Any Other Name: Rebranding 'Obamacare'
The former Health and Human Services secretary thinks it might be time to rebrand 'Obamacare.'
by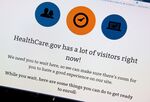 Former Health and Human Services Secretary Kathleen Sebelius may have diagnosed the Affordable Care Act's biggest problem—the program's distinctive nickname. 
"Obamacare, no question, has a very bad brand that has been driven intentionally by a lot of misinformation and a lot of paid advertising," Sebelius said Wednesday at Politico's "Lessons and Leaders" forum in Washington, D.C. 
The Obamacare brand, of course, was originated by Republicans who failed to block the legislation. Until this week, however, Sebelius, who stepped down from her position in April, had never floated the idea of a rebranding effort to decouple the president from his signature accomplishment. 
"I think we may need to call it something in the future different, but it is working," Sebelius said, Politico reported. 
After presiding over the disastrous rollout of the program's website in October 2013, Sebelius spent the next several months working to fix the technical glitches. Approximately 10 million Americans have now enrolled for coverage under the Affordable Care Act, which proponents note has slowed the rise of healthcare premiums, and led to a record low in the number of citizens who do not have health insurance. 
During the leadup to the midterm elections, the president enthusiastically embraced the program's nickname. 
"They call it Obamacare?" the president declared at a St. Louis fundraiser in October. "I do care! You should care, too." 
At a Dallas fundraiser that same day, Obama sounded incredulous that the Republican party remained intent on repealing the healthcare legislation, the Hill reported.  "Folks go around saying Obamacare. That's right—I care. That's their main agenda? That's your plank? Is making sure 30 million people don't have health insurance?"
Still, Sebelius is not the only Democrat who sees the nickname as a liability. Responding to reporters early last year on the question of whether she worried whether "Obamacare" was a political liability for her party, House Minority Leader Nancy Pelosi fired back, "Absolutely not. First of all, it's called the 'Affordable Care Act.' If that's what you're referencing, yeah, they are going after the Affordable Care Act," the Washington Times reported.  
Before it's here, it's on the Bloomberg Terminal.
LEARN MORE