Spending Bill to Get House Vote Amid Discord on Bank Measure
Heidi Przybyla and Erik Wasson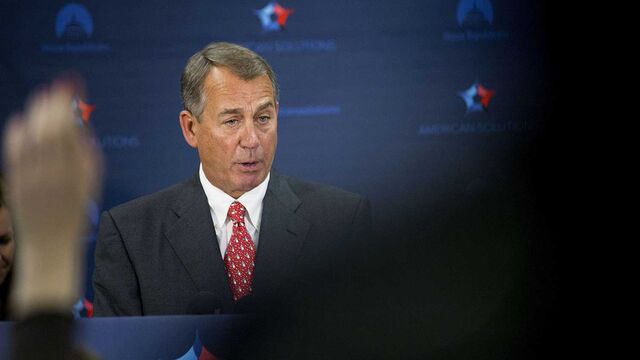 The U.S. House is set to pass a $1.1 trillion spending bill that includes a banking provision opposed by many Democrats as a giveaway to large institutions.
Current funding for the government ends today, and the measure would finance most of the government through September 2015. The House also plans to pass a short-term spending bill to give the Senate time to vote on the measure and avoid a government shutdown.
Democrats showed their displeasure over the banking provision by voting against a procedural measure to set rules for debating the bill. That measure passed 214-212.
"I expect this bill will receive bipartisan support and pass," House Speaker John Boehner told reporters today in Washington. "If we don't get finished today were going to be here until Christmas."
Republicans probably will need some Democratic votes to pass the measure. A number of Republicans oppose the spending measure because it puts off a confrontation over President Barack Obama's immigration policy until 2015.
The banking language, insisted upon by Republicans, would ease rules enacted to protect taxpayers against bank losses after souring derivatives trades helped cause the 2008 financial crisis. The dispute over the banking rule is a preview of Republican plans to roll back other business regulations when they take control of both chambers in 2015.
'Riskiest Behavior'
The provision would put "taxpayers back on the hook for Wall Street's riskiest behavior," House Minority Leader Nancy Pelosi, a California Democrat, said yesterday.
Though Pelosi opposes the banking provision, she stopped short of urging fellow House Democrats to vote against the bill, said a leadership aide who sought anonymity.
The White House has held back from urging votes for the spending bill in an effort to give Pelosi room to try to force Republicans to revise it, said a White House official who spoke on the condition of anonymity to discuss strategy. The administration still prefers a full-year bill to a three-month continuing resolution, this official said.
A deal on the measure was announced Dec. 9 after Senate Democratic negotiators accepted the banking rule changes and Republican demands on other policy provisions. Republicans oppose changes to the measure and said they're not reopening negotiations.
Bipartisan Majorities
Boehner told reporters yesterday he looks "forward to it passing with bipartisan majorities in the House and the Senate in the coming days."
Senate opponents led by Elizabeth Warren of Massachusetts aren't threatening to hold the bill up. Chief negotiator Barbara Mikulski of Maryland, the Senate Appropriations chair, is standing by the deal.
The banking provision would let JPMorgan Chase & Co., Citigroup Inc. and other lenders keep swaps trading in units with federal backstops.
"This is about reckless behavior," Warren said at a news conference. "It's about a giveaway to the largest financial institutions in this country."
Second-ranking Senate Democrat Richard Durbin of Illinois said he didn't know if he would vote for the spending bill with the banking changes.
'Horrible Choice'
"It is just an invitation for another financial disaster," Durbin said. "It is a horrible choice between a bill of over a trillion dollars in spending, with a lot of very important provisions in it, and some absolutely awful language put in by special interests in the House."
Though Democrats including Mikulski aren't pleased about the policy changes, they said they beat back dozens of other provisions that Republicans had sought. Those proposed revisions focused on environmental and labor protections.
While Obama will maintain the power of his veto pen, Republicans are likely to try to force anti-regulation measures by attaching them to must-pass spending bills and other legislation.
White House spokesman Josh Earnest said yesterday, "We are going to give this piece of must-pass legislation the thorough attention and review it deserves."
"The president does have a veto power," Earnest said.
Immigration Fight
The deal puts off a confrontation over immigration until early 2015. The Department of Homeland Security, responsible for immigration policy, would be financed only through Feb. 27. Republicans want to use the agency's spending bill to block Obama from easing deportation rules for millions of undocumented immigrants.
Last year, Republican efforts to defund Obama's health care law led to a 16-day partial government shutdown.
In addition to the Dodd-Frank measure on swaps trading, the funding measure would allow exceptions to clean-water laws for agricultural refuse, and block the District of Columbia from spending money to legalize marijuana following a voter-approved measure allowing possession of as much as 2 ounces for personal use.
The plan would roll back safety rules on rest for truck drivers, ignoring the pleas of consumer activists and Transportation Secretary Anthony Foxx.
Congested Roads
The provision would temporarily suspend rules while a study is conducted about the number of trucks driven on congested roads. Under the change, truckers would be able to work as many as 82 hours a week.
The spending bill would allow a tenfold increase in donations that individuals can make to national political parties each year, to $324,000 from $32,400, according to a statement by Fred Wertheimer, president of Democracy 21. The group advocates for changes to campaign finance laws.
Donors would be able to give $97,200 a year to each of three party committees for conventions, to pay for building funds and to finance the expenses for recounts and legal challenges to election results, Wertheimer said in a statement.
The bill would bar the Department of Housing and Urban Development from starting a program to reduce mortgage-insurance premiums for borrowers who attend housing counseling sessions. It would stop HUD from funding increased oversight of mortgage originations by charging a new fee to lenders.
Gun Manufacturers
The plan includes a proposal sought by the National Rifle Association that lets gun manufacturers use lead to produce ammunition, and a labor provision exempting claim adjusters from overtime requirements during major disasters.
The measure would seek to shore up the Pension Benefit Guaranty Corp. by allowing some underfunded multiemployer pension plans to reduce benefits. The provision reflects an agreement by House Education and the Workforce Committee Chairman John Kline, a Minnesota Republican, and senior Democrat George Miller, a California Democrat.
The measure also includes an extension until Oct. 1, 2015, of a ban on taxing Internet access. It would provide $5.4 billion in emergency funds to respond to the Ebola outbreak.
The bill would require the Postal Service to continue delivering on Saturdays and to keep all post offices open.
The Export-Import Bank would be allowed to continue financing overseas coal-fired power projects. As part of Obama's effort to combat climate change, Ex-Im had revised its guidelines to bar such funding for plants that lack carbon-capture technology.
Republican proposals omitted from the bill include revisions to District of Columbia gun laws and six other Dodd-Frank-related policy proposals, according to a Democratic aide who sought anonymity.
The aide said Democrats also headed off 25 changes to environmental regulations, including those governing greenhouse gases, fish and wildlife and ceiling fans as well as one blocking climate research.
Before it's here, it's on the Bloomberg Terminal.
LEARN MORE