Christie Job Approval In 'Slump,' Poll Finds
The numbers come as New Jersey lawmakers say they have not found a direct link between the governor and Bridgegate.
by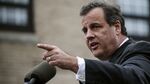 Governor Chris Christie's approval rating is stuck in "an 11-month slump which began when the Bridgegate scandal broke," Quinnipiac University pollsters said Wednesday after New Jersey lawmakers investigating the traffic-jam controversy said last week they had not found a direct link to the governor.
Forty-eight percent of New Jersey voters approve of the Republican's job performance compared to 47 percent who disapprove, the pollsters said. Christie's approval rating is up two points from October.
The pollsters gathered responses Dec. 3-8, spanning the days both before and after the lawmakers' findings were publicized. Christie has denied involvement in the jam, which is still under review by federal prosecutors in Newark.
The potential presidential candidate is on much stronger ground with Republican voters in his state than with voters overall: 82 percent approve compared to just 12 percent who disapprove, according to Quinnipiac. Among independents, he is rated 51-45; among Democrats, 20-74.
Quinnipiac polled 1,340 registered voters by phone. The margin of error was 2.7 percentage points.
Before it's here, it's on the Bloomberg Terminal.
LEARN MORE